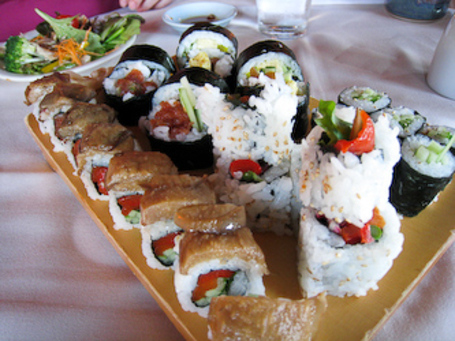 Vegetarian Sushi At Kisaku Sushi In Seattle
Some folks might think that a vegetarian reviewing a sushi restaurant is like Ralph Nader reviewing Fashion Week. In some sense that is probably true, since I can't give you any report on the quality of the fish, but we can still talk about the rice & nori, which are critical components, not to mention the service and atmosphere.
We chose Kisaku rather than our regular Nishino last night, just to shake things up a bit. It had a ton of positive votes on Urbanspoon (see link at end), and I can see why. There is a lot to like.
Kisaku is in the Tangletown neighborhood, near Green Lake. When we arrived around 6:00, there were several families with young children. I'm sure as the evening progresses it becomes more of a grownup atmosphere, but it is nice that it is kid friendly. That fits well with the rest of the scene, which is bright and inviting, moderately upscale but not at all fussy.
I'd read good things about the mushroom salad, which turns out to be mixed greens with a variety of mushrooms (oyster, shiitake, button) sauteed in a warm, gingery vinaigrette. It was pleasing, though I think it would be even better if the shrooms had been caramelized a bit. I think they are on to something and want to try my hand at a similar dish at home.
They had a good selection of vegetarian sushi rolls. The Devil's Vegetarian rolls (left side of the picture above) was filled with red bell pepper, cucumber & shiso and topped withdeep fried & marinated eggplant. Shiso is one of my favorite herbs, so that was a hit. I wasn't sure why they deep fried the eggplant; that conjured crispy images in my mind but it was soft.
We also had a vegetarian futomaki (back right), a garden roll (front) which included asparagus, red pepper (again), and mayo, and a traditional cucumber roll (front right).
While I enjoyed the creativity that went into each of these rolls, and the relatively large vegetarian selection, somehow I found the rice slightly lacking. Maybe just a bit overly sticky, and a slight corresponding soginess to the nori. Nothing major, just the difference between good and awesome.
Kisaku has an extensive sake list. I tried an unusual "purple morning" sake brewed with red rice. It had a somewhat dry fruit flavor. I probably wouldn't order it again but was grateful for the opportunity to try something different.
Everything above, plus a spicy tuna roll for Sarina, edamame, and vegetable tempura came to $67 including tax and tip, which seemed reasonable to me.
So bottom. Pluses: nice place, nice people, lots of vegetarian choices, creative food, reasonable prices for higher-end sushi. Probably awesome fish but I couldn't tell ya. Minuses: to me, and I'm no expert, the sushi rice itself wasn't outstanding and some of those combinations were maybe a bit too untraditional for my bent.