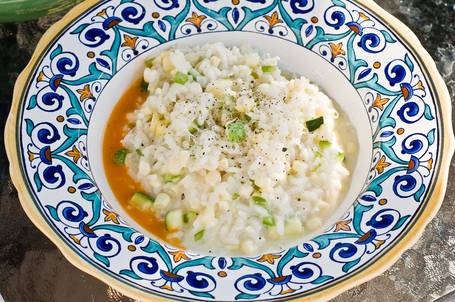 Summery risotto with corn, zucchini, and tomato oil
One of the great things about risotto is that it is a blank canvas on which you can paint the produce of any place and season.  Restaurants tend to make the same stereotyped combinations over and over again, but don't let that limit your options!
I needed a light entree for a hot day, and I wanted something a little festive since it was for a birthday celebration, so I made a basic risotto with fresh corn and zucchini, and dressed it up with a bit of tomato-flavored olive oil.
For a more concentrated tomato oil, I would oven dry the fruits first to evaporate most of the moisture. This one I did with raw cherry tomatoes. The water emulsified the oil, so it actually was more like a tomato dressing. It still had a lot of flavor intensity and has the virtue of coming together in 2 minutes. Dipping bread in the leftovers was pretty incredible. You should only keep leftover home-flavored oils for a few days because there is a risk of anaerobic bacteria.
The broth for a risotto should be mildly flavored, because it is greatly reduced and concentrated in the cooking process. If you started with a strong broth it would be overpowering when finished. For this risotto, I add the corn cobs to the broth while it is simmering to bring up the corn flavor.
p.s. I made another version of this dish in the summer of 2009; check it out and see which sounds best to you!
Summery Risotto With Corn, Zucchini and Cherry Tomato Oil
Serves 6
Vegetarian and gluten-free; vegan if you omit the cheese
For the tomato oil:
6 tablespoons extra-virgin olive oil
handful of flavorful cherry tomatoes (or 1/4 cup diced ripe tomato)
1/4 teaspoon salt
Puree all ingredients in a mini-food processor.
Allow to steep for half an hour if possible.
Strain first through a fine mesh sieve and refrigerate if not using soon.
For the risotto:
6 cups mildly flavored vegetable broth (Seitenbacher broth powder works well)
4 tablespoon olive oil
1/4 cup minced onion
2 cups arborio, carnaroli or other risotto-approved rice
1/2 cup dry white wine
2 teaspoons salt
corn kernels from 1 and 1/2 ears, reserve the cobs
2 small zucchini, fine dice
1/2 cup or more grated parmigiano-reggiano cheese plus more for serving
Bring the broth to a simmer, and add the corn cobs.
Heat the olive oil over medium heat in a large, heavy pot. Saute the onion for a couple of minutes until softened but not browned. Add the rice and saute for a minute or two until it turns slightly translucent.
Add the wine and salt stir until absorbed.
Add the broth, one ladle at a time, stirring very frequently. Continuously isn't necessary. When the rice begins to dry out, add another ladle.
After 16 minutes, begin to check a grain every minute. When there is a slight white pinhead that is a bit tough inside, add the vegetables. If you have used up all of the broth, you can start using water. Add more salt if needed.
Within 3-10 minutes, the rice should be tender but with just a hint of toothsomeness to it, and it should be surrounded with creamy, starchy goodness. Take it off of the heat right away and stir in the cheese.
Serve in individual bowls. Add a good squeeze of the tomato oil around the edge, and top with more cheese. Or truffles if you happened to have some.