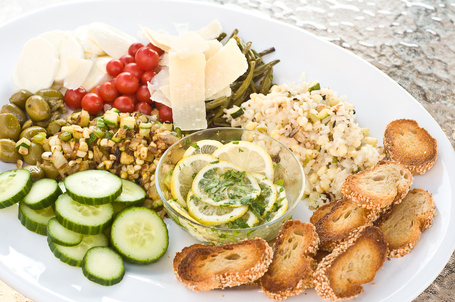 Non-traditional vegetarian antipasto
Is it hot in your house? Don't feel like cooking? How about a non-traditional, vegetarian antipasto for dinner?
There is something so gracious and gratifying about a big generous platter of the good things from your refrigerator and cabinet, preferably served outdoors with a glass of wine or a cold one.
I can't explain why, but something about putting everything on one big family platter in the middle of the table makes it seem a lot more special than grabbing everything from the fridge and leaving them in their original containers.
The best part is you can put it all together in just a few minutes.
Don't feel limited to the standard repertoire of antipasto items you see at restaurants. Feel free to include tasty bits of leftovers, raw vegetables, quick pickled vegetables, an item or two from carryout, whatever you've got!
To get you started, here's what was on our platter last week, pictured above:
marinated green olives
fresh mozarella
heirloom cherry tomatoes
shards of parmesan
leftover roasted green beans from carryout
leftover corn and zucchini risotto – too lazy to fry it into cakes
more leftover corn and zucchini (I diced too much for the risotto), quickly sauteed with red onion, garlic and olive oil
cucumber
ultra-thin slices of lemon, marinated in olive oil, parsley, chili flakes, sea salt and sugar (another Mario Batali trick)
and of course, slices of baguette, brushed with olive oil and toasted
Obviously if you set out to make this exact platter, it is going to be a huge hassle. But if you take the concept, maybe stop at the store for a baguette and a couple vegetables and raid your fridge and pantry, you can have this on the table in just a few minutes.
Other wonderful options: roasted peppers, pepperoncini, aged balsamic vinegar, Middle eastern spreads like hummus or baba ganouj, roasted eggplant, roasted garlic, white beans… the possibilities are endless.
Try it and I'll bet you'll find your whole family will love this light, relaxing way of eating where everyone gets to choose what they want for their next bite.
And by the way, if you enjoyed this post, how about subscribing to my RSS feed. And have a great holiday weekend!