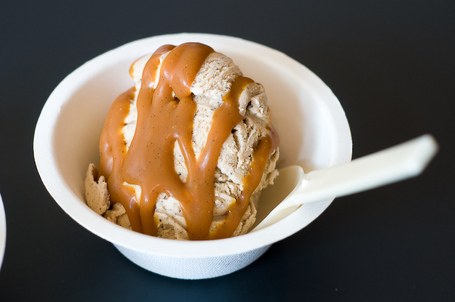 Coffee ice cream with vanilla-bean caramel sauce at Molly Moon's in Seattle
Anyone who has spent time in the Midwest or on the East Coast will agree, Seattle is not a great ice cream town. So when I heard that Molly Moons in Wallingford was making the good stuff on site with mostly organic ingredients and interesting flavors, it was on my radar right away. Then when Dana Cree, a wonderful pastry chef and co-author of Tasting Menu was leaving Veil to work at Molly's, I couldn't wait any longer.
My wife and I tried the coffee, chocolate, and salted caramel ice creams. The coffee was my favorite, made with beans from Vivace which may be the greatest roaster in America. (I know, I'll probably get some hate mail from someone who is a fan of a place I've never heard of that roasts their beans one at a time with forceps and a bunsen burner. Go ahead, I can handle it). You can see that scoop up above, with caramel sauce. Sarina objected to the slight grittiness of the very fine coffee grounds remaining in the ice cream, but it didn't bother me.
Honestly, I felt the chocolate was just good, not chocolate reverie inducing. And we both thought that the salted caramel was out of balance. I adore salt in my caramel, but this just seemed to go too far. And the salt was very evenly distributed in the mix, so every bite tasted the same. I think less salt and mixed in at the last moment so you get the occasional capricious flake of sea salt would be better.
Dana's toppings were absolutely stellar, and a great treat for only $1 per serving. The aforementioned vanilla bean caramel sauce was rich and buttery and neither too runny nor chewy. The seasonal compote achieved a texture I've never come close to, somehow thick and consistent without being at all gummy, and no sacrifice in fresh fruit flavor. Amazingly good.
Molly's is definitely worth a visit, and I'll be back to try some of those other interesting flavors, like the Thai Iced Tea and Balsamic Strawberry. At just $3 for a scoop and $4.50 for a double, it is an affordable and very fun treat – especially for us transplants that miss having good ice cream in every neighborhood.
p.s. kudos to Molly for using organic dairy, lots of local ingredients, and all compostable serving bowls and utensils!