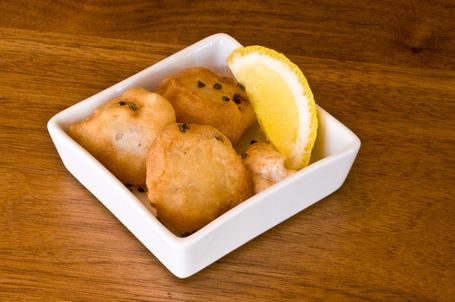 Lychee tempura, with spicy mayo and black sea salt
This is the second in my series of amuse bouche based on fresh lychees. (Here is the first in the series). This one I fried using the small-batch tempura batter from Morimoto: The New Art of Japanese Cooking
, and served it with a Togarashi-spiced mayo, black sea salt, and a slice of lemon.
One of the indelible dining experiences of my life involved tempura. A Japanese colleague and I were traveling in Tokyo for Adobe, and our local marketing guy took us to a little restaurant that served nothing but tempura. (Note to engineers everywhere: let the marketing guys take you to dinner.) It was a beautiful place, with no tables and just a ten-seat counter, run by a husband and wife. Nothing was in English, so being a vegetarian I would have never wandered in by myself for fear I wouldn't have been able to communicate my needs.
Our host exchanged a few words with the chef and for the rest of the evening a magnificent series of tiny dishes was brought to us. Many courses were vegetarian anyhow, but when my friends had meat or fish, the chef would make me something special. It was the season for maitake mushrooms, which were especially delicious. There was no "tempura sauce", just sea salt touch each perfect bite to. And superb sake. I was really glad I wasn't footing the bill.
Back to reality… my lychee bites pale in comparison to that reverie, but were still pretty tasty! Here's the recipe:
Tempura Lychee with Togarashi Mayo
Serves 4 as an amuse bouche
Vegetarian; not vegan or gluten-free
1 egg yolk
1/4 cup neutral flavored vegetable oil
3/4 cup cold club soda or sparkling water
1 cup all purpose flour
a bit more flour for dredging
1 tablespoon homemade or bought mayonnaise
1/2 teaspoon shichimi (aka nanami) togarashi pepper (or to taste)
6 fresh lychees, peeled, halved, and pitted
oil for frying
black sea salt
4 thin wedges of lemon
In a small bowl, lightly beat the egg yolk, then in succession, whisk in the vegetable oil, soda, and flour. Don't overbeat. It shouldn't be too thick, so if necessary thin with a bit more soda.
In a very small pot, bring 1 inch of oil to 350 degrees fahrenheit. Don't overheat or it will develop unpleasant flavors (and be a fire risk).
Meanwhile mix the mayonnaise with the sansho pepper.
Using chopsticks, dredge each half lychee in flour, then in the tempura batter, shaking off any excess, then into the oil.
Fry until golden brown, turning if needed, then drain on paper towels.
Serve immediately with a few grains of black sea salt, a half-teaspoon of the mayonnaise, and a small lemon wedge.