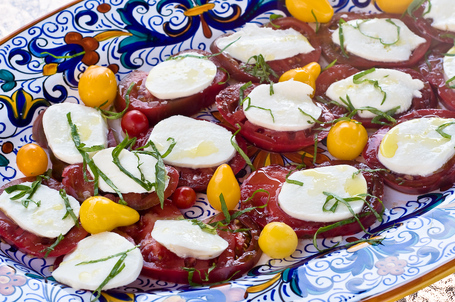 Insalata caprese with Purple Cherokee heirloom tomatoes
All year I look forward to the brief period when the tomatoes are good enough to eat insalata caprese several times a week.
Because it is made with only 5 ingredients, and you don't cook them, the greatness is completely determined by their quality. This calls for the finest, ripest heirloom tomatoes you can lay your hands on, sweet & milky fresh mozarella, superb olive oil, flaky sea salt, and fragrant basil. The one in the picture above was made with Purple Cherokees and a handful of mixed heirloom cherry tomatoes.
Besides being incredibly tasty, it goes together in 3 minutes flat.
So what are you waiting for?
Insalata Caprese
Vegetarian and Gluten-free; not vegan
Serves 4
2 large, ripe heirloom tomatoes, cored and sliced about 3/8 – 1/4" thick
optional: handful of heirloom cherry tomatoes
2-3 large balls of fresh mozzarella, preferably buffalo mozzarella, sliced a little thinner
best quality extra virgin olive oil, preferably fruity
sea salt (Maldon (aka the world's greatest salt) is ideal)
4-5 leaves of fresh basil, chiffonade or tear
Arrange all of the tomatoes in a single layer on serving platter.
Top each slice with a piece of cheese.
Drizzle everything with a generous amount of olive oil.
Sprinkle on the salt.
Finish with the basil garnish.