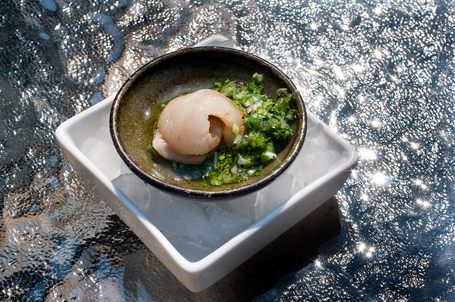 Iced lychee on a bed of ice, with Asian mignonette sauce
Here's the last of the three lychee amuse bouche (you can see the earlier ones here and here). Sticking again with the idea that peeled and pitted lychee are kind of fleshy and shellfish-like, I made an Asian-twisted mignonette, which a sauce traditionally served with oysters. It is vinegary, and tastes best very cold, so I served the whole dish on a bed of crushed ice.
Iced Lychee With Asian Mignonette Sauce
Serves 4
Vegetarian, vegan, and gluten-free
4 fresh lychee, peeled, halved, and pitted
2 teaspoons rice wine vinegar
1 1/2 teaspoons finely minced green onion (white part only)
pinch ground Szechwan peppercorn (or black pepper)
pinch sugar
pinch salt
1 1/2 teaspoons cilantro
Prepare the lychees and refrigerate.
Combine the vinegar, green onion, pepper, sugar and salt, and let marinate for at least 30 minutes in the refrigerator.
To serve: finely mince the cilantro and add to the sauce. Fill four small bowls with crushed ice. Place two half-lychees in each of 4 tiny bowls that fit on the crushed ice. Top the lychees with a very small spoonful of sauce, and serve immediately. Tell your guests to pick it up and eat it like a shooter.