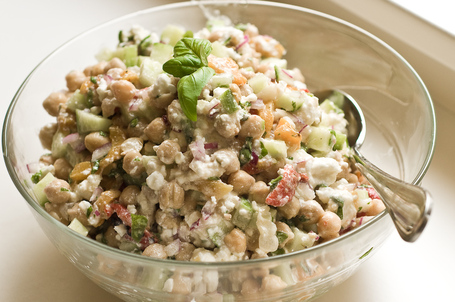 Got home from work at 5:30 and the block party / potluck was called for 6:00. Two crazy kids meant I had about 5 minutes to put something together, but I wasn't about to settle for bland. Last year I brought empanadas, so we have a reputation to uphold! Easy potluck recipes are a dime a dozen, but the challenge here was to deliver one with big flavors.
I raided the pantry and refrigerator and made this chickpea-based salad with a Mediterranean approach. I think it went over well, since it was all gone quickly. As you toss it, the crumbled feta dissolves a little bit and makes a creamy dressing.
This recipe really shows why it is such a good idea to keep your pantry stocked with things like cans of chickpeas, roasted peppers, and good olive oil. When you don't have time to do much cooking, you can still get something great on the table. Or in this case, on the street.
You could easily add or substitute other herbs (tarragon or dill would be nice), olives, green beans, artichoke hearts, or just about any vegetable.
Chickpea Salad With Feta Cheese
Vegetarian and gluten-free; not vegan
Serves 12 as a side dish
2 small (15 ounce) cans chickpeas
1/2 red onion, fine dice
1/2 english cucumber, fine dice
1 jar roasted red or yellow peppers, roughly chopped
8 oz. feta cheese, crumbled
1 clove of garlic, crushed and minced
handful of fresh basil, torn
3 tablespoons fresh lemon juice
1/4 cup extra virgin olive oil
black pepper to taste
salt to taste
Combine all of the ingredients except the salt, and toss well.
Taste and add salt as needed. Depending on how salty your feta is, you might not need any.
Serve right away, or it can be refrigerated for a few hours.