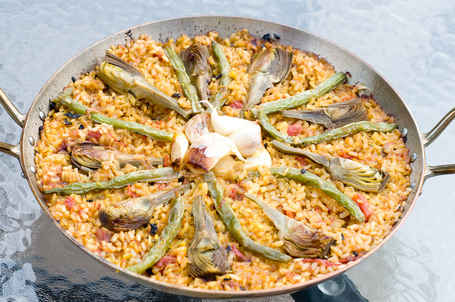 Vegetarian Paella With Artichokes And Green Beans
I know, when you think paella, you think seafood paella. But the real main event is beautifully cooked, tomato and saffron infused short-grain rice with a caramelized crust (socarrat) on the bottom. Add a few baby artichokes, green beans, and garlic and you've got a terrific vegetarian paella.
We have this beautiful copper paella pan that we received as a wedding present (thanks Anita & Dave!). Theoretically it would serve 3-4, but Sarina and I have very little willpower with this dish, so I use the copper pan when it is just for the two of us. You can do it very successfully in a (non-cas iron) skillet, or buy an inexpensive, dedicated paella pan.
Paella can be a deep topic. Ask 10 Spaniards how to make it right, and you'll get at least 20 opinions. But there is no need to be intimidated. I'll show you a simple method that will give you delicious results. If you feel an urge to learn more of the details, this article by Norberto Jorge is a great place to start. His original article in Fine Cooking got me started on this dish.
Ingredient Notes
For the vegetable stock, you need a clear broth with a mild flavor not dominated by any one vegetable. Be choosy in the store, many of them are thick and soupy or full of MSG. This one from Seitenbacher is my favorite. (Showing you the Amazon link because it has a good picture, not because I think you need a 6-pack. Whole Foods carries it, at least in my area).
Saffron is the world's most expensive spice by weight. Made from the stigma of a crocus flower, it takes thousands to make a single ounce. That makes it tempting for disreputable dealers to adulterate or simulate the product. Fortunately you just need a pinch. Be sure and by the whole stigma, not a powder, and from a brand you trust. (If in doubt, I can vouch for this one.)
Finally, you have to have the right rice. Please, I beg you, don't go making this recipe with Uncle Ben's or basmati and then tell me it was awful. I believe you. I've always used this one from Matiz which is undoubtedly overpriced, but works beautifully. Someone let me know if they have another traditional favorite.
Enough preliminaries, let's make some paella!
Vegetarian Paella
Serves 3-4 (unless you are greedy like me)
Vegetarian, vegan, and gluten-free
pinch of saffron (see note above)
3 T. olive oil
3 baby artichokes, prepared as described here, but quartered instead of sliced
12 green beans, trimmed
1 whole head garlic, top 1/3 trimmed off
1 small onion, grated on large holes
1 small tomato, grated, or 1 small can of diced tomatoes
3.5 cups vegetable broth (see note above)
1.5 c. paella rice (see note above)
1 sprig fresh rosemary (optional)
salt to taste
1 lemon, cut into wedges
Put your 14-inch paella pan over medium heat. Wrap the saffron in a tiny packet of tin foil and toast for a minute over a low flame in the pan. Set the packet aside.
Raise the heat to medium-high. Add the oil to the skillet. Add the artichokes, green beans, and the whole head of garlic. Season with salt. Cook about 10 minutes, until the artichokes are starting to get tender and the green beans wrinkled. Set the vegetables and garlic aside, leaving the oil in the pan. To save time, you can also do this saute in a separate skillet, and start cooking the sofrito of onions and tomatoes simultaneously in your paella pan.
While the vegetables are cooking, put the broth in a saucepan and bring it to a low simmer. Using your fingers, crush the saffron into the broth.
Set the heat to medium, add the onion to the oil and saute for 2 minutes. Add the tomato, season with salt, and cook, stirring occasionally for about 5 minutes until the sofrito is dark and pretty dry. It is ok if it sticks a bit. Taste the broth and season if needed.
Add the rice and saute for about 1 minute, until it starts to turn translucent, just like you would for a risotto
Spread out the rice evenly over the bottom of the pan. Add 3 c. of the simmering broth, which should cover the rice. Arrange the artichokes and green beans like you see in the picture above, and place the garlic in the middle.
Simmer about 8 minutes, until the broth no longer covers the rice. Add the rosemary if using. No stirring at any point in this process! Reduce heat to medium low and cook 10 more minutes. At this point the liquid should be mostly absorbed. Taste a grain of rice just below the surface. If it is just slightly al dente, go on to the next step. If it is not done, add a bit more broth or water and continue simmering until it is fairly tender with just a hint of white remaining at the center of the kernel. Pat attention at this stage, because you are walking a fine line between getting the rice sufficiently cooked and adding so much liquid that you can't form a crust in step 9.
Cover the pan with a lid or tin foil and cook for three more minutes to make sure the topmost rice is done.
With the foil still on, raise the heat to medium high and cook for a couple more minutes. You should hear a bit of a crackling noise. The idea is to deeply brown the bottom most layer, creating the prized crust known as the socarrat. You don't want to burn it, but you want to get some serious crust. All of your hard work on this dish pays off if you execute this last step well. Take the top off and poke at the crust with a spoon to convince yourself it is forming.
Remove from the heat and let rest with the cover on for 5 minutes or so. Serve with lemon wedges. Everyone can eat from the paella pan, or dish it out onto individual plates.