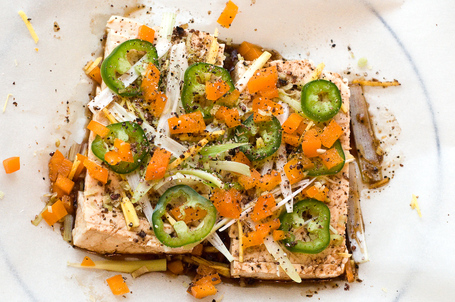 The tofu all seasoned and ready for wrapping
Imagine opening a present at the table, and being greeted with a rush of aromatic steam full of lemongrass and ginger that makes you close your eyes with pleasure.
Don't get me wrong, I'm 100% happy and proud to be vegetarian. I'm also an obsessive eater and cook. So when I see omnivores eating a preparation that looks heart-poundingly delicious, I tend to get bummed out if there isn't a way to adapt the concepts to a great vegetarian dish. I feel that way about Southeast Asian-style recipes for fish, when the critter is steamed with a bunch of herbs and spices in some kind of packet (often a banana leaf).
American recipes for tofu often involve marinating in a soy-based sauce, sometimes overnight. Have you ever cut into a piece of tofu after marinating like that? Pretty much nothing has happened. You can see that the sauce has penetrated like 3 microns deep. You can change that by freezing and thawing the tofu first, but then you get a spongy texture.
How do these two thoughts tie together? Well, I was pondering ways to solve the marinade problem, and it occurred to me that I should try and increase the surface area. So I took a 1/2" slab of tofu and scored it deeply in both directions (see below). The first time I tried this, I left it in a heavy soy marinade for a few days (yeah, I forgot about it), and it was much too salty.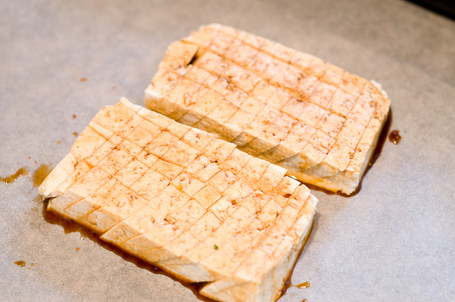 Scored tofu with the sauce
I realized that the scoring reminded me a bit of fish, which led to today's much better version. I didn't pre-marinade at all, just did the scoring and wrapped the tofu up in parchment with classic seasonings. Twenty minutes in the oven later, and the flavors had steamed to a heady intensity. You'll definitely want to let each diner open their own and have that sensory experience.
This style is popular (with varying flavor profiles) in Vietnamese, Thai and Indian cuisines. And then there are French "en papillote" recipes, though the milder, buttery flavors don't go as well with tofu.
One nice thing about making individual packets is that you can customize the spice level for each person if necessary.
Ingredient notes:
The recipe calls for long pepper. Long pepper has an amazing history. It was imported to ancient Rome along with the black pepper we use today. It has a similar flavor, but is hotter and has an intense floral note. I love it. If you don't want to track it down, use a mixture of black pepper and cayenne and maybe coriander seed.
To prepare fresh lemongrass, use only the lower 3 inches of a stalk. Remove the bottom tip, and outer layers of the stalk until you reach a slightly tender inner shoot. Pound that shoot well with something heavy like a rolling pin, and then mince it with your knife. I know this sounds like some work, but it only takes a minute and it releases an incredible flavor. Do a good job or you'll end up with unpleasant woody bits.
Tofu In The Style Of Southeast Asian Steamed Fish (Vegetarian)
Serves 4
Vegetarian, vegan, and gluten-free
20 oz. firm or extra-firm tofu
4 pieces of parchment paper or banana leaf, large enough to wrap the tofu and form an envelope
1/4 c. light soy sauce
1 T. mirin
1 t. vegetable broth powder (optional)
1" piece of fresh ginger, grated
1 stalk fresh lemongrass, trimmed, pounded and finely minced. (See note above)
2 jalapeno (optional, or other peppers, heat to your taste), seeded and sliced thin
2 scallions (green onions), use the bottom 4 inches, trimmed and sliced thin lengthwise
1/2 orange or yellow bell pepper, cut into fine dice
black pepper
long pepper (optional, see above)
1 lime, cut into wedges
Preheat oven to 400 degrees Fahrenheit.
Cut the tofu into 8 evenly sized slabs. Being careful not to cut all the way through, score each slice in both directions, with cuts about 1/4" apart, angled from top to bottom. (See picture).
Combine the soy sauce, mirin and broth powder with 1/4 c. of water. Place two pieces of tofu on each piece of parchment or banana leaf, and spoon a tablespoon or two of the sauce over each one.
Evenly divide the ginger, lemongrass, jalapeno, scallions, and bell pepper over the packets. Season each with several grinds of black pepper and long pepper.
Fold the wrapper over first in one direction and then the other, rolling the lip to make a firm seal, moderately tight around the ingredients, but leave a bit of room for steam. Secure with two toothpicks. Place on a baking sheet in the oven and cook for about 20 minutes. If you are using parchment paper, it will turn quite brown, which is normal.
To serve, place each packet on an individual plate. Tell the diners to open it carefully and enjoy the aromatic steam. Pass the lime wedges.