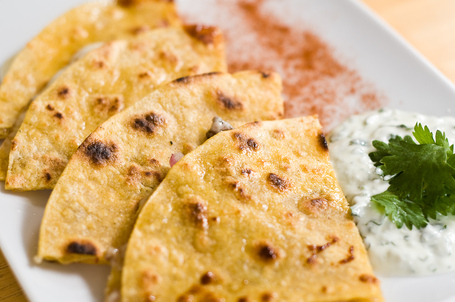 Crispy Quesadilla with Pecorino and Onion & Garlic Jam
Pretty much everyone loves a quesadilla. Whether you are feeding a 3-year old with mild Monterey jack, or a sophisticated foodie with taleggio and grilled figs, a tortilla and melted cheese is quick to make and irresistible. Let me tell you about a simple trick which will take your quesadillas from tasty but floppy to crispy and delicious.
First a word of warning: this only works with corn tortillas. Flour quesadillas are fine too, but that's a different article. I prefer corn because it adds more flavor and texture.
Anyhow, here is the secret: brush both sides of the quesadilla with a bit of oil before putting them on the pan or griddle on medium-high heat, and then let it cook plenty of time on each side.
I told you it was easy! It doesn't need to be a lot of oil at all, but the difference is amazing. When you cook a quesadilla dry, the shell simply heats up and dries out a bit, which is ok. But when you brush on a bit of oil and let it cook awhile, the tortilla gets crispy / chewy and tastes amazing, like a perfectly fresh tortilla chip.
[Like this post? Please give it a thumbs up on StumbleUpon.]
If you are lucky, a bit of the cheese might run out and brown and stick to the edges like the top of a great mac & cheese and now you've got some serious flavor going.
To get your creative juices flowing, here's a tasty quesadilla I made the other day, filled with green peppercorn pecorino, red onions, and (incredible) Stonewall Kitchen Roasted Garlic & Onion Savory Jam
. I served it with a quick chevre & cilantro sauce and some smoked paprika
. You should substitute ingredients wildly and make whatever sounds good to you!
Crispy Quesadilla with Pecorino and Garlic & Onion Jam
Makes 1 quesadilla – multiply as needed
Vegetarian & gluten-free; not vegan
Preparation time: under 10 minutes

2 taco-sized soft corn tortillas
1/4 cup grated green peppercorn pecorino cheese
a few thin slices of red onion
1 tablespoon Stonewall Kitchen garlic & onion jam (see link above)
2 teaspoons vegetable oil (anything that can handle heat, like canola)
pinch of kosher or sea salt
2 tablespoons goat cheese (aka chevre; my favorite is Laura Chenel)
small handful cilantro leaves, chopped fine – reserve a couple for garnish
smoked paprika (see link above)
Heat a cast-iron skillet, flat griddle, or other frying pan over medium heat.
Sprinkle the cheese on one tortilla and top it with the onion.
Spread the jam on the other tortilla and cover the first one.
Brush one side with the oil and put that side down in the skillet, then brush the other side with oil.
Cook for several minutes on each side, until it is developing beautiful crispy brown spots. The one in the picture above could actually have gone a few more minutes.
Meanwhile, beat the goat cheese with a bit of water until smooth like thick yogurt. Bruise the minced cilantro with your fingertips to release the flavor and stir it in to the goat cheese with a bit of salt to taste.
When the quesadilla is done on both side, remove it to a cutting board and carefully cut it into quarters with decisive presses of a sharp knive. Place on plate, sprinkle with a bit of salt, dust the plate with the smoked paprika, add a dollop of the goat cheese sauce and munch intently.