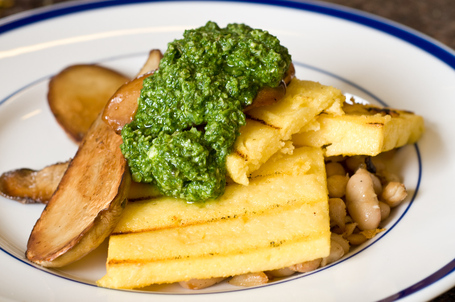 When I saw "French Horn Mushrooms" at Whole Foods (for $19.99/lb), I thought they looked awfully familiar. In fact I would have sworn they were the same as the "King Oyster Mushrooms" for sale at $6-8/lb at our local Asian groceries. Sure enough, either one is Pleurotus eryngii. (Click over to see what they look like raw.)
One way to get a lot of umami flavors from these fungii is to slice them thinly and sear them. I was forced to correct the Wikipedia article that claimed they were tasteless. They brown beautifully, developing a meaty texture which can easily stand up to a flavorful sauce.
For this dinner I paired the King Oysters with grilled polenta, white beans with caramelized onions, and pesto. I made the pesto using Marcella Hazan's decadent method. She has you mix in 3 tablespoons of softened buttter. I wouldn't have tried it if the recipe came from any less of an authority, but I have to say it is awfully good, adding another dimension of smooth sweetness.
This is definitely the time of year to make pesto, as super-fresh basil should be available by the  bushel at your farmer's market (or in your back yard?). If you are shopping at Whole Foods, they also carry a "living basil" with roots still attached in a moist packet. Bring it home and store it on the counter in a glass of water until you are ready to use it, and you'll be rewarded with maximum flavor.
Note that to make the grilled polenta, you have to cook the cornmeal and then let it cool for a couple of hours or overnight, so plan accordingly.
King Oyster Mushrooms With Pesto, Grilled Polenta, and White Beans
Serves 4
Vegetarian & gluten-free (*); not vegan
For Marcella Hazan's pesto (makes a little extra):
2 c. packed fresh basil leaves, rinsed and dried
1/2 c. extra virgin olive oil
3 tablespoons pine nuts (or I used pepitas because of allergy issues)
2 cloves garlic, thinly sliced
salt to taste
1/2 c. fresh grated parmesan cheese (parmigiano-reggiano)
2 tablespoons fresh grated romano cheese
3 tablespoons unsalted butter, room temperature
In a food processor, spin the basil, olive oil, nuts, garlic and salt until it is a uniform green paste with a bit of texture left.
Remove the pesto from the food processor and mix in the cheese by hand.
Finally, mix in the softened butter.
For the grilled polenta:
2 c. polenta
2 t. salt
1/2 c. grated parmesan cheese
olive oil
If using a packaged polenta, prepare according to the directions. I really like de la Estancia, which cooks up in just a minute because it is so finely ground. If you are using a bulk polenta, cook in the normal way.
Butter or oil a 12″ x  12″ pan (or something a little larger than that), and pour in the polenta. Refrigerate until cool and firmly set. (You can do this the night before, or at least 2 hours before you plan to serve). You want them fairly thin so the inside will heat up properly; definitely no more than 1/2″ thick.
Slice into 3.5″ squares, brush with olive oil and cook on a grill pan or skillet until they develop a nice crispy crust. Oil well to be sure they don't stick. Remove and season with more salt. You will have more polenta left for another meal.
For the white beans:
1 white onion, medium dice
2 cloves garlic, sliced thin
2 tablespoons olive oil
1 small can cannellini beans, drained and rinsed
salt
In a small skillet over medium heat, cook the onion and garlic in the olive oil until starting to brown.
Add the beans, reduce the heat to low, and simmer 5 minutes.
Season with salt to taste.
For the king oyster mushrooms:
In a large skillet over medium high heat, heat the olive oil.
Add the mushroom slices in a single layer. Cook for a few minutes on each side until they develop rich browning on the edges and a slight tenderness. (They will remain moderately chewy / meaty).
Drain off any excess oil and season with a good sea salt.
To serve:
Divide the beans evenly on 4 heated plates.
Top the beans with two squares of polenta.
Add 1/4 of the mushrooms.
And finally add a generous dollop of pesto. Pass more at the table.
(*) Recipes marked as gluten-free are not guaranteed, and of course I can't be responsible for anyone's safety. The ingredients listed are gluten-free to the best of my knowledge, but if you are serving someone with a gluten allergy (or any other serious allergy), be sure to discuss with them the requirements for their safety.