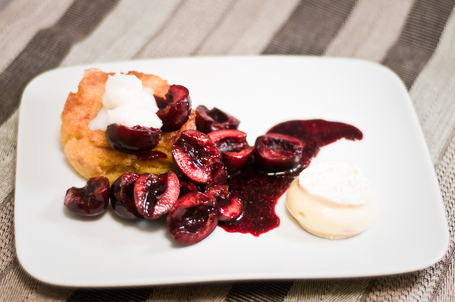 Corn Cake with Camembert, Cherries, and White Honey
Cherries are in full storm here in the northwest. Mostly we just like to eat them out of hand, many pints at a time. While laying in a cherry-induced stupor, red juice drooling like some sort of befruited Dracula, I set to pondering whether I could steal just a few of them to experiment with flavor pairings.
My first thought was to do a cheese course, which then morphed into something that is more of an ambiguous sweet/savory dish, which I find appealing.
The components on the plate are a corn cake made with fine polenta, rosemary, brown sugar, and butter (which reminded me very much of an Indian Suji Halva), Mt. Townsend Pacific Northwest Camembert, Bing Cherries, a sauce made from cherry juice and Acetoria Sour Cherry Vinegar, and white honey from the Big Island of Hawaii.
The white honey is an unusual product, from bees that fertilize rare kiawe trees. It is raw and unfiltered, with a creamy consistency somewhat like softened butter. The flavor is intense but clean and not overly floral. I'm at a loss to give you a comparison. Maybe a bit like an ice wine.
Corn Cake with Camembert, Cherries, and White Honey
Serves 4
Vegetarian; gluten-free; not vegan
For the corn cake:
1 sprig rosemary
2/3 c. ultra-fine polenta (I used de la Estancia)
1/4 c. dark brown sugar
1 T. butter
pinch of salt
Bring 2 c. water to a boil.
Add rosemary sprig, reduce to a simmer, cook for 1 minute, remove rosemary.
Add the remaining ingredients and simmer until the polenta is cooked, just a couple of minutes.
Divide the polenta among 4 buttered ring molds and refrigerate on parchment.
For the cherry sauce:
1/2 c. juice of fresh cherries
1/4 c. sour cherry vinegar
Combine and simmer until reduced by 1/2.
To serve:
Unmold the corn cakes and fry at high heat in a bit of oil to create a crisp crust on both sides.
Serve each cake with 1/4 of the pitted cherries, 1.5 T. of the sauce, one piece of camembert, 1.5 t. of the honey, and a pinch of the flaky salt..