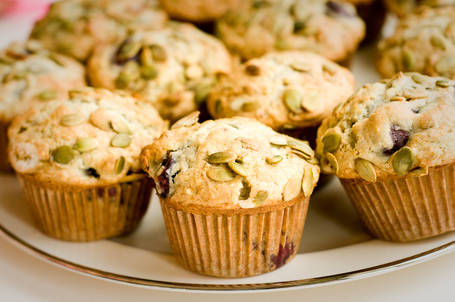 Cherry-Pumpkin Seed Muffins From The "Farm To Table Cookbook" – Recipe
Sarina gave me this beautiful new book, the The Farm to Table Cookbook: The Art of Eating Locally
by Northwest author Ivy Manning for our anniversary. It is organized by seasons, with an emphasis on ingredients that you might find at a farmer's market, and includes recipes both from the author and a who's-who of excellent regional chefs.
Last Saturday morning, my daughter and I made the Cherry-Almond muffins from the book, but since we can't use almonds or almond extract in our house we substituted pumpkin seeds and vanilla extract. It turned out to be great that we made them, because a few hours later, Sarina was in labor and we took the last few muffins to the hospital with us. They were much better than hospital food for a late night snack! (Not that those Swiss Miss vanilla pudding cups aren't delicious. Ok, they're not.)
To make this recipe, you'll need to pit the cherries. The book suggests putting them in a plastic bag and smushing the pits out, which I'm sure would work. I used this very simple and inexpensive
"hole punch" style pitter which works great too, as long as you aren't trying to do ten pounds at a time. Hint: do it in the sink, and keep your bowl of pitted cherries a foot or so away so you can be sure not to get any pits mixed in.
Here's our nut-free version of the muffin recipe, which Manning curated from Chef Lee Posey of Portland's Pearl Bakery. By the way, if you make them, please come back and fill out the Recipe Tester Form! Your feedback is always needed.
Cherry Muffins With Pumpkin Seeds (Pepitas)
Yields 12 Muffins
Vegetarian; not vegan or gluten-free
6 tablespons unsalted butter, room temperature
3/4 cup sugar
1/2 teaspoon salt
1 egg
1 teaspoon pure vanilla extract
2 1/2 cups all-purpose flour
2 teaspoons baking powder
1/3 teaspoon baking soda
1 cup whole milk
8 ounces fresh cherries (Bings or Lapins), pitted and roughly chopped
1/2 cup shelled pumpkin seeds (pepitas), toasted in a skillet or oven
1/4 cup shelled pumpkin seeds (pepitas), raw
Preheat oven to 375. Grease or line 12 muffin cups.
Beat butter, sugar, and salt until light and fluffy, either in a mixer or by hand.
Beat in the egg and vanilla extract.
In another bowl, combine the flour, baking soda, and baking powder.
Gently mix half of the flour mixture into the butter, then half of the milk, then the remaining half of each. Do not overbeat or the muffins will be tough.
Stir in the cherries and toasted pumpkin seeds.
Distribute the batter into the muffin tins, and top with the raw pumpkin seeds.
Bake 20-25 minutes until golden brown and a toothpick comes out clean.
Cool and chow.