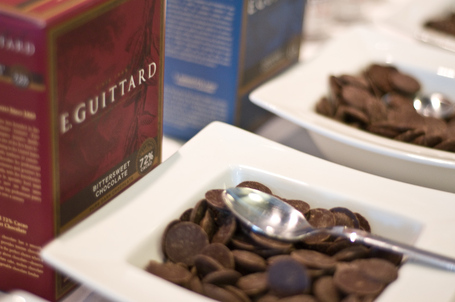 Guittard chocolates for baking (or, um, eating)
The first Seattle Luxury Chocolate Salon was a resounding success! 20+ chocolate artisans showed up to offer samples and talk about their work. For only a $20 entrance fee and unlimited tasting, this was a fantastic bargain for anyone who lusts for cacao.
This year's event was made slightly surreal by the sight of an enormous cruise ship docked right outside the the Bell Harbor Conference Center, filling the view out the salong windows. Apparently the ship caused a short circuit in the building, which in turn lost air conditioning. Some of the chocolatiers said the warmth was affecting the "snap" of their chocolates, but I have to say it wasn't a big deal. Definitely an application of Murphy's law!
I had the awesome responsibility of being a judge for the event, which was sponsored by TasteTV. I spent a couple of hours wandering from booth to booth, gorging, being awed by both the natural flavors of chocolate and the amazing confections built on top of them. Here are a few of my favorites:
Several other bloggers wrote reviews of the event, including Gastrolust, Seattle Bon Viv, Culinary Fool, and Cookie Baker Lynn.