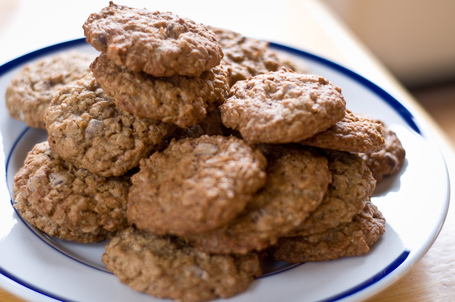 Oatmeal-Chocolate Chip Cookies
Sometimes in life you just want a big, warm plate of chocolate-chip cookies, and sometimes you want oatmeal chocolate-chip. At least that's what Sarina and her Mom tell me :).
I started with  this recipe from Panthera and applied my usual cookie tweaks (more salt, more chocolate, chill the dough) with good results. I used regular rolled oats, not quick-cooking ones, which presumably resulted in a chewier cookie.
The original recipe calls for a cup of chopped walnuts too, which would be good – can't use 'em in my allergic house.  Or if you want to do raisins, don't let me stop you. You might want to cut down the white sugar by a couple of tablespoons too.
Oatmeal-Chocolate Chip Cookies
Vegetarian, not vegan or gluten-free
Makes about 30 largeish cookies
1 cup butter, room temp or warm briefly in microwave
1 cup light brown sugar
1/2 cup white sugar
2 eggs
1 tablespoon vanilla extract
1 1/4 cups all-purpose flour
1/2 teaspoon baking soda
2 teaspoons Diamond Crystal kosher salt or flaky sea salt (use only 1 for iodized salt or Morton's kosher)
3 cups oats (see note above)
1 1/2 cups semisweet chocolate chips (Ghiradelli works well)
Preheat oven to 325 F, using convection if available.
In a stand mixer, cream together the butter and both sugars on medium speed until smooth.
Add the eggs one at a time, continuing to beat. Add the vanilla extract and turn off the mixer.
Combine the flour, baking soda and salt in a separate bowl, then add to the mixer and briefly mix, scraping down the bowl a couple of times.
Add the oatmeal and briefly mix.
Add the chocolate chips and briefly mix.
Chill the dough for about 1/2 hour. You can do this right in the mixer bowl.
Using a small ice-cream scoop or a very heaping tablespoon, drop balls on a silpat or ungreased baking sheet. Bake for about 14 minutes, until nicely browned.