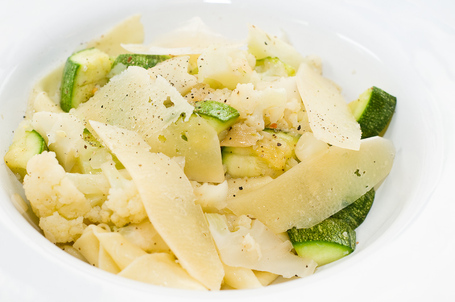 Pappardelle With Cauliflower and Zucchini
I find it fascinating how different types of Italian pasta seem to want different sauces. I don't know how much of that is from their inherent properties or just repetitive association. I guess that is a nature vs. nurture question. Were these noodles born loving butter or did their momma teach them?
These fresh pappardelle from Seattle farmer's market stalwart La Pasta have an incredible natural sweetness from the semolina and eggs. I didn't even want to caramelize the vegetables in the saute, which I normally consider mandatory. The only embellishments were roasted garlic (again, mild and sweet), and a tiny bit of tarragon.
With this kind of dish, the love is all in choosing good ingredients and timing. If you use sad pasta and vegetables, cook them both to mush, add 5 year old dried tarragon and Kraft grated cheese instead of the pecorino romano, you are going to have something (maybe) worthy of Olive Garden. If you get beautiful ingredients and are careful to time it so the vegetables and pasta are done at the same moment, and accurately check your seasoning, this simple meal can be transcendent.
Instead of the pecorino you could also use a nice big spoonful of Calabro ricotta. That's what I'm talking about.
Fresh Pappardelle With Cauliflower and Zucchini
Serves 3-4
Vegetarian; not vegan or gluten-free
2 heads garlic (if roasting, or 1-2 minced cloves if just sauteeing)
4 T. butter
1 small head cauliflower, cut into florets
1-2 medium zucchini, cut into 4 lengthwise strips and then sliced 1/2 thick
pinch of tarragon
1 lb fresh pappardelle noodles
black pepper
salt
pecorino romano, cut thin with a vegetable peeler
Bring a large pot of well-salted water to a boil. Put your serving bowls somewhere to warm.
If you want to roast the garlic, trim the upper 1/4" off of each head, rub them with some olive oil, wrap in tin foil and place in the toaster oven (or regular oven) at 400 F for about 40 minutes, until easily pierced with a fork. If you don't have that kind of time, skip it and just add a minced clove or two to the saute.
In a large saute pan over medium-high heat, melt 3 T of the butter. Add the cauliflower, and stir. Add a couple tablespoons of water and cover for a couple of minutes, until just starting to become tender. Squeeze in the cloves of roasted garlic, taking care not to add the skins. Add the tarragon and 1 t. of salt. Add the zucchini and stir occasionally. Check the seasoning.
When the vegetables are 3 minutes from done (probably just after you add the zucchini) turn them down to the low heat and drop the noodles in the boiling water.
When the noodles are al dente (about 3 minutes for fresh pasta), drain them and toss with the remaining 1 T. of butter.
Divide the noodles among heated bowls, top with 1/4 of the vegetable saute, several nice shavings of pecorino and freshly ground pepper.