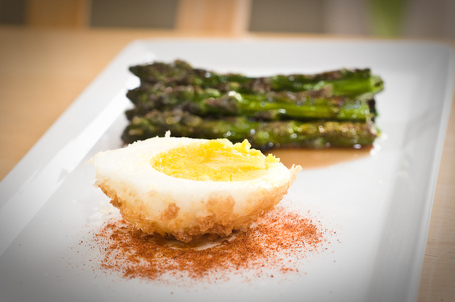 Panko-Crusted Egg With Cherry Smoked Asparagus, Smoked Paprika, And Sherry Gastrique
This was the third course for my recent "underground" dinner party, and definitely my favorite. The panko-crusted egg was a late-night inspiration. I've been on a hunt for new ways to add crispy textures in unexpected places. The crunchy panko makes a really cool counterpoint to a correctly cooked, soft and smooth hardboiled egg. Eggs and asparagus have a natural affinity, and smoking the asparagus doubles up the flavor of the smoked paprika (pimenton dulce). The sherry gastrique adds complex sweet/sour/caramelized notes.
NOTE: I no longer recommend jury-rigged stovetop smoking. I've since learned that creating smoke in a low-oxygen sealed environment like this creates unnecessarily high levels of carcinogens. See my Smoked Tofu Buns recipe for a safer alternative if you don't have your own method of smoking.
Panko-Crusted Egg With Cherry Smoked Asparagus, Smoked Paprika, And Sherry Gastrique
Serves 4
Vegetarian, not vegan or gluten-free
4 eggs (3 for boiling, 1 for battering)
cornstarch
panko
oil for shallow frying
smoked Spanish paprika
1 c. sherry vinegar ("O" brand is good)
1/2 c. sugar
24 fat spears asparagus
Maldon (aka the world's greatest salt) salt or other finishing salt
extra-virgin olive oil
Hard boil, chill, and peel 3 of the eggs. At the bottom of this article (just above the recipe) you'll find directions for how to get them to come out tender and perfect. You only need 2 eggs to serve 4 people, but I'm having you do an extra one in case one cracks or gives you a hard time removing the shell.
Reduce the sugar, sherry, and a pinch of salt over a moderate flame until it will lightly coat a spoon when allowed to cool for a minute.
Trim the asparagus to uniform 3 inch lengths and lightly peel the stems. Blanch for 2 minutes in boiling, salted water then shock in ice water. Smoke however you like (e.g. in a stovetop smoking set up See note on safer smoking above., or on a barbeque with real charcoal and wood chips). I used cherry wood, which has a very distinctive taste. About 10 minutes should do it.
Cut the eggs in half lengthwise, and batter the outside in the usual way – dipping first in cornstarch, then a raw beaten egg, then panko mixed with some salt. Try not to get any batter on top of the egg. Pan-fry in about 1/2″ of oil until crispy.
Reheat the asparagus with a very quick saute in a bit of olive oil at high heat.
To serve, put a circular dusting of the pimenton on the plate and top with the egg. Next to that, put down a teaspoon or so of the gastrique. Place 6 spears of the smoked asparagus on top of that in a pyramid.
Hit the asparagus with a bit of extra virgin olive oil and finishing salt.