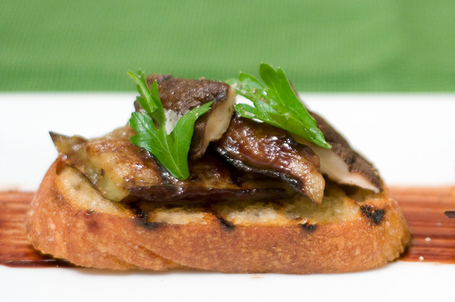 Grilled Eggplant And Shiitake Bruschetta
I cannot tell a lie. This was a totally failed experiment, but a yummy bite of food.
Experiment first: I've been interested for awhile in the idea of using the microwave to glaze a plate with sauce. The way I've tried it, I put maybe a tablespoon of a fairly thin sauce on the plate, then microwave it for 20 seconds at a time, giving it a shake occasionally, until it just barely dries into a thick coating. It makes kind of a mess and you have to wipe the plate carefully where you didn't want the sauce. But my evil plan was that then I could put a piece of hot, moist food down on it, and the diner could swab the reduced sauce with the food, rehydrating the intense flavors.
I still think I can make it work somehow. But it just wasn't working last night; all I was getting was an ugly brown splotchy mess.
All that 'sperimenting made me pretty hungry though, and I'd made a delicious red wine/soy/miso sauce. So I reduced that to a glaze and used my favorite pastry brush to drag it across the plate, which looked nice (see picture above). I grilled some bread, fresh shiitake, and Japanese eggplant (the last with more of the glaze), and had a midnight snack that assuaged the pain a little. This would make a fine first course for dinner on the deck.
Grilled Eggplant And Shiitake Bruschetta
Makes 4 pieces
Vegetarian; vegan if you omit the parmesan; gluten free if you omit the bread
1/2 c. red wine (I used a Tempranillo)
1/4 c. tamari or shoyu soy sauce
2 T. brown miso
2 T. mirin or 1 T. sugar
4 slices country bread
1 Japanese eggplant, quartered lengthwise
4 fresh shiitake caps, reserve stems
flat leaf parsley
olive oil
safflower oil (or other neutral high-heat oil)
sea salt (Maldon (aka the world's greatest salt)!)
black pepper
parmesan (optional)
In a small saucepan, combine the red wine, tamari, miso, mirin (or sugar) and shiitake stems. Bring to a boil and then simmer until syrupy on a spoon after it cools for a second. Remove the stems.
Rub the eggplant and shiitakes with the neutral oil and a bit of salt. On a grill pan or over a charcoal grill, cook until tender. The eggplant will take longer. For the last few minutes of cooking the eggplant, glaze it with a bit of the sauce. Try to only flip each item once so you get nice intact grill marks.
When the vegetables are almost done, rub olive oil generously on both sides of the bread, and grill them until lightly brown. Watch closely so as not to char the bread.
To serve, use your pastry brush to put a line of the remaining sauce down the center of a long platter. (Or do individual small plates). Cut the eggplant and shiitake into large bit size pieces and arrange a generous amount on each slice of bread. Top each bruschetta with a few leaves of parsley, sea salt, black pepper and slivers of parmesan.