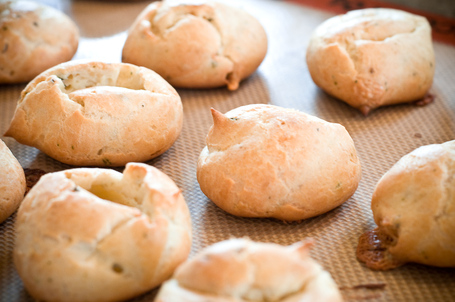 Gougères with Blue Cheese and Rosemary
Goo what? Gougères, pronounced "goo-zherz". You make a simple choux paste (aka pâte à choux) dough, mix in some cheese, and bake them. There is no chemical or yeast leavening, they rise from steam and the structure created from gluten and eggs. The same dough (minus the cheese) is used to make eclairs, beignets, and cream puffs.
My recipe is based on the one in Alice Water's wonderful cookbook, The Art of Simple Food. She does hers with either Gruyere or anchovies, but the version I brought to Keren's recent blogger potluck was with blue cheese (Bleu D'Auvergne, my current favorite) and rosemary from our garden. You should feel free to try other cheeses and herbs.
Waters' recipe is fantastic of course, but I found it didn't yield what she said it would. The book says 20 large or 40 small. I made a double recipe and got only 30 large – so the recipe I list below is doubled. Figure 1-2 per person as part of a bread basket or appetizers with cocktails. For bonus points you could match the flavorings of your Gougères to the drinks you plan to serve.
They taste best fresh out of the oven, but you can also reheat at 375 for a 3 minutes.
Gougères with Blue Cheese and Rosemary
Yields 30 2-inch pastries
Vegetarian; not vegan or gluten-free
1 c. water
6 T. butter cut into pieces
1 t. salt
1 c. flour
4 eggs
1 T. rosemary leaves, very finely minced
6 oz. mild blue cheese such as Bleu D'Auvergne, broken into small pieces
Preheat oven to 400 F.
In a small saucepan, heat the water, butter and salt over a medium flame until the butter melts. Do not boil.
When the butter is melted, dump in the flour all at once and stir vigorously until the dough pulls away from the sides of the pan, and then for one additional minute.
Remove from the heat, transfer to a medium mixing bowl, and allow to cool for 3 minutes, stirring occasionally.
Beat the eggs in one at a time with a wooden spoon. When you add each one, it will seem like it isn't going to incorporate. Just keep stirring hard, and it will suddenly mix in.
When all four eggs are incorporated, mix in the rosemary and cheese, and again beat until well mixed. There might be tiny lumps of cheese left, that's ok.
On parchment (or Silpat) lined baking sheets, pipe or spoon the dough into 2" diameter puffs, with a good amount of space in between.
Bake for 10 minutes, then lower the heat to 375 and bake 15 more minutes until golden brown and crisp.
Remove from the oven and pierce each one with a sharp knife to let out the steam, so they don't get soggy.