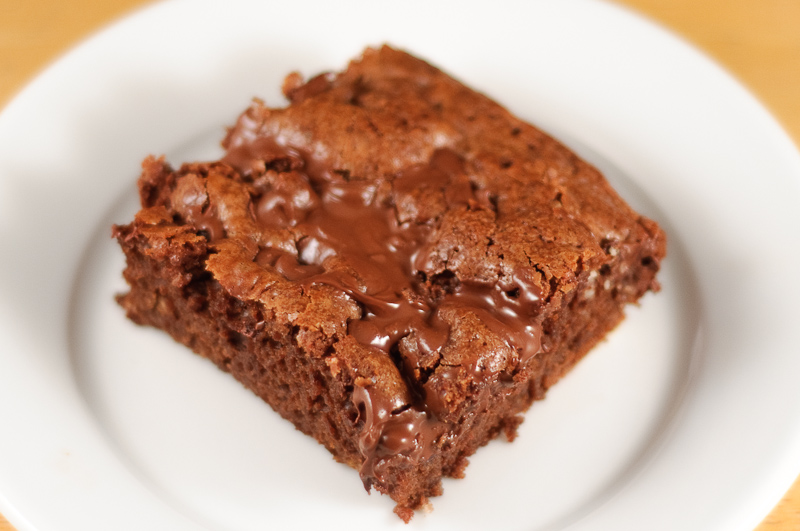 Spectacular Chocolate-Espresso Brownies
Brownies of course are one of those topics that cleave the population along multiple dimensions. Cakey or fudgy? Love the middle or the edges? Celtics or Lakers? Nuts or no nuts?
For me, I like more of a cakey brownie, but it has to be very moist and dense cake. Middle. Celtics!!! I like nuts, but we live in a nut-allergy family, so none in these.
I've been searching awhile for a recipe that really captured those qualities and packs a seriously chocolaty punch, one that satisfies a guy who will down a whole bar of 72% dark chocolate like it was a potato chip.
Now I'm not a huge Barefoot Contessa fan. Nothing against her, the recipes are solid but a bit obvious – nothing to make me really run and open the book often. But Sarina suggested that the Contessa might have a proper brownie recipe and boy was she right. The Outrageous Brownies are everything I was looking for. I don't think I'll ever try a different recipe again, this just hits it out of the park. And everyone I've fed them to agrees.
Needless to say I tweaked them out a bit to meet my own needs. The original recipe makes a 12×18 pan, but that is a lot for a small family, so I halved it to a 12×9 pan. Then I omitted the walnuts, doubled the salt, upgraded the chocolate, and simplified to use one less bowl.
I also replaced the instant coffee with instant espresso. I've always been loyal to the Medaglia D'Oro brand, which I used to drink 20 years ago at 4 AM, sneaking off between the first two sessions of meditation practice, when there wasn't enough time to make a real pot. Now I'd never drink it, but it actually tastes pretty great in baked goods. Another good option is Starbucks' Via instant coffee packets.
I sprinkled half of the chocolate chips over the top of the batter instead of mixing them in, which gives you these incredible creamy-chocolate rivers on the surface.
Hmm…. I guess that means I pretty well made the recipe my own, but with many props to Ina Garten. And she got hers from William Morrow's  SoHo Charcuterie Cookbook. So it just goes to show you how recipes evolve over time. I hope you'll change them to your own heart's desire.
Note: if you want these to be really light and cakey, use cake flour instead of all-purpose flour. I did this sort of by accident one day and was shocked how much it changed the texture. I don't prefer it, I like them denser, but this is an option if you want more of a cake texture.
Most Spectacular Chocolate and Coffee Brownies
Makes at least 10 large brownies or 18 more moderate ones.
Vegetarian; not vegan or gluten-free
1/2 lb. (2 sticks) unsalted butter
12 oz. (1 bag) Ghiradelli semi-sweet chocolate chips
4 oz. best-quality unsweetened chocolate, chopped (Scharffen-Berger is awesome for this)
4 large eggs
5 teaspoon instant espresso (Medaglia D'Oro is good)
1 tablespoon vanilla extract
1 c. + 2 tablespoons sugar
1/2 c. + 2 tablespoons all-purpose flour
1.5 teaspoon baking powder
1 teaspoon flaky sea salt (Maldon (aka the world's greatest salt)!)
Preheat the oven to 350 F.
Butter and flour a 12×9 pan, at least 1″ deep.
Melt the butter, half of the chocolate chips, and the unsweetened chocolate in a double boiler or microwave (being careful to stir occasionally so it doesn't explode in your wave), then allow it to coll a bit.
In another bowl, beat together the eggs, coffee, vanilla and sugar. Stir in the chocolate mixture, drizzling in slowly so you dont' cook the eggs.
Sift together the flour, baking powder, and salt. (If any of the salt doesn't go through the sieve, add it in and stir). Add to the chocolate mixture and mix but don't over-beat.
Pour the batter into the prepared pan and spread evenly.
Evenly distribute the remaining half of the chocolate chips over the surface.
Bake for 20 minutes. Give the pan a rap to force out bubbles. Bake for 5-10 minutes more, until a toothpick comes out clean. Don't overbake! Allow to cool slightly. Don't eat them all at once. Unless you want to.
Variation: In another bowl, melt 3/4 c. white chocolate and mix in 3/4 c. cream cheese. Swirl the mixture through the chocolate before sprinkling on the chips at step 7.