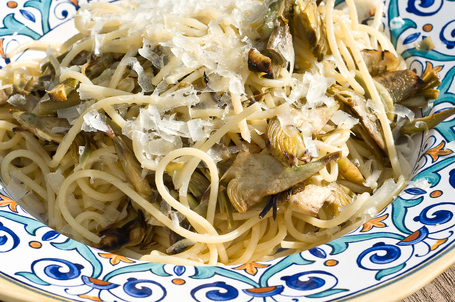 Sarina and I were so in love with the Spaghetti with Fresh Artichokes we had last week at The Pink Door, I wanted to recreate it at home. I got reasonably close for a first try. This is a pretty simple dish, but requires a bit of prep time for the artichokes, and the technique is a bit different depending on whether you use baby artichokes or larger ones.
To prepare baby artichokes up to around 2 inches wide:
Cut off the top 1/3.
Pull off dark green outer leaves until you get to ones that are yellowish
Trim off the very end of the stem.
Use a vegetable peeler to peel the stem and any coarse stuff at the base.
Slice in half lengthwise.
If there is any hair bit (choke) in the middle, remove it with a spoon (grapefruit spoons work well).
Put in acidulated water (bowl of water with a lemon squeezed into it) to keep from browning.
To prepare larger artichokes:
Remove all leaves.
Trim end of stem.
Use a paring knife to remove all of the coarse stuff around the base of the heart.
Peel the stem and any last bits of thick skin on the heart.
Remove all of hairy choke with a spoon.
Put in acidulated water (bowl of water with a lemon squeezed into it) to keep from browning.
There is a good visual tutorial at cheftalk.com, on the second half of the page. But don't waste the stems, and don't quarter them since, we'll be slicing them thin instead.
Once you have your artichokes trimmed, the rest of the dish goes together quickly. Other flavor ideas that I think would work well are chili flakes, orange zest, or fresh mint (which you would add at the very end).
Spaghetti with Fresh Artichokes ala Pink Door (Spaghetti con Carciofi "Porta Rosa")
Serves 3-4
Vegetarian; not vegan or gluten-free
16 baby artichokes, 8 medium artichokes, or 4 large artichokes trimmed as described above
1 lb. spaghetti
4 cloves garlic, thinly sliced
extra virgin olive oil
salt
pepper
pecorino romano cheese, grated
Put large pot of salted water on to boil.
Put serving bowls somewhere to warm.
Drain the artichokes, pat dry thoroughly, and slice them about 1/8" thick.
In your largest frying pan over high heat, add a few tablespoons of olive oil and saute the artichokes, tossing frequently. Add a couple teaspoons of salt. They will probably take about 15 minutes to get tender. I like them with just a hint of crunch left and some browning. When they are close to done, add the garlic.
Meanwhile, when the artichokes are beginning to get done, start the pasta boiling.
When the pasta is just about al dente, drain well and return to the pot. Over medium-high heat, add all of the artichokes, a handful of the cheese, and more olive oil. Toss for one minute.
Taste and adjust seasoning, then divide among the serving bowls and top with more olive oil if you like, and more cheese. Serve immediately.