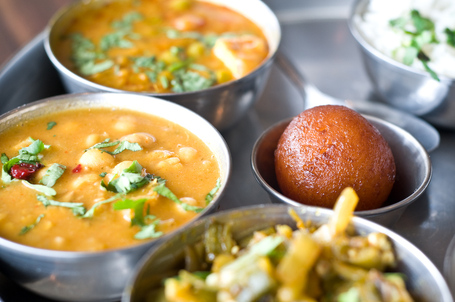 Thali with Bhindi, Chana, Mattar Paneer and a Gulab Jamun
Iqbal and Gurmit Dha and their daughter Harpreet Giil have done something terrible, and I'll never forgive them. Their vegetarian restaurant, Punjab Sweets, offers my favorite Indian snacks, entrees, and sweets. And it isn't in walking distance of my house. I find this to be deeply cruel.
Seriously, I'm always on the lookout for the Indian snacks known as chaat. I love them all, but my favorite is the Pani Puri (also known as Golgoppa) that you see below. A plate of little crispy fried shells is served with a savory filling, and an intensely flavored dipping "water" with lots of tamarind, mint and spices. You poke a hole in the top of a shell, fill it up, dip it in the sauce and hurry it to your mouth before you douse your shirt. The versions I'm most familiar with include potatoes and chickpeas in the filling. Punjab Sweets does a wonderful, more minimalist version with just potatoes. Their sauce is the freshest I've ever tasted.

Pani Puri aka Golgoppa
I wanted to try as many of the entrees as possible, so Harpreet suggested the thali you see in the first picture. I chose the bhindi (okra), matter paneer (fresh cheese cubes and peas), and the chana (chickpeas), which were served with basmati rice, homemade yogurt, homemade pickled carrots, and a gulab jamun for dessert.
These were not the dumbed-down curries that you find on lunch buffets throughout our fair city. Each looked alive and fresh, and had a distinct flavor. The curries at Punjab Sweets are not generally mild. Be prepared for a decent level of heat that complements the other tastes.
Then there is the matter of dessert. As you can see below, you are going to have a difficult decision on your hands. My recommendation is to ask for a mixed box of Harpreet's favorites so you can try them all.
The sweets here are better than the best I had in Delhi, including the famous Haldiram. Many Indian sweets are based on flavored cream reduced to the consistency of fudge, and chickpea flour (besan). Flavorings include shredded carrots, pistachios and other nuts, rosewater, cardamom and other sweet spices. As with everything else at Punjabi Sweets, the desserts are a cut well above average, with smooth consistencies and well balanced flavors. I find them less tooth-achingly sugary than other shops, and that allows the caramelized brown-butter flavors to shine. A box would make a terrific hostess gift or an interesting platter at a party.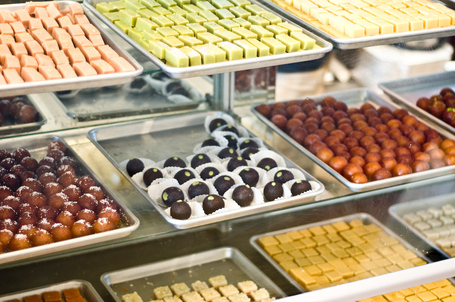 The Eponymous Sweets
Can you tell I love this place? All of the food at Punjab Sweets is 100% vegetarian, so that is a major bonus. And everything is prepared with obvious love and care, using first-quality ingredients and no shortcuts. I highly recommend a visit.
Details:
Punjab Sweets
23617 104th Ave SE C
Kent, WA 98031
(253) 859-3236
Open daily 11 a.m.-9 p.m