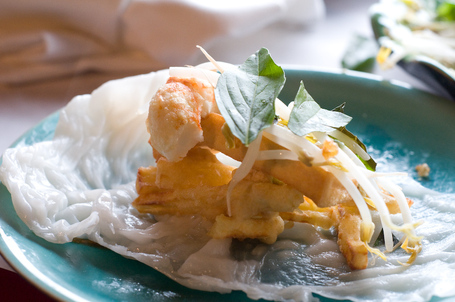 This is my entry in the Seattle Restaurant Review 360 that Gastrognome is hosting this month.
I'd been intrigued by Jonathan Kauffann's review of Jasmine Provincial Vietnamese Restaurant in the Seattle Weekly awhile back, so when Naomi named this her pick for a 360, I was more than ready to jump in.
The Weekly review focused on comparing Jasmine to another Seattle favorite, Tamarind Tree. I certainly see the point of the comparison. Both restaurants aim to bring an upscale feel to a cuisine that in America is usually served in more of a down-home neighborhood style. Their decor is sharper and more modern, and the food more varied than at your average Vietnamese restaurant. I don't doubt that Jasmine's owner's paid close attention to Tamarind Tree's success in designing their room and menu.
That said, I don't think that is the major story here. Jasmine's food stands on its own, with some very interesting and well prepared dishes.
As a vegetarian, I was a bit concerned when I started flipping through the menu. Not one veggie dish appeared at first, not even a spring roll or a mango salad. But then at the back of the menu, all of the vegetarian dishes had been conveniently gathered under a single heading of about 20 choices. Even better, they seem to understand what vegetarian means. No sneaky shrimp or pork, and not even fish sauce!
The first item we had was the steamed rice paper you see above. I was picturing the normal thin rice paper that is used to wrap a fresh spring roll. This rice paper was much thicker, and steamed to a pillowy, warm softness. The server tells me the they make it from scratch.
We piled the wrappers with the fried yams, tofu, bean sprouts, basil and crispy shallots you see below, then dipped them in a soy-based sauce. I'm a sucker for dishes with a wide range of textures and combined fresh and fried flavors. While working through the pile of fried yams, I recoiled for a moment at the sight of a whole shrimp. Then I realized it was a pseudo-shrimp made of taro. It was very tasty though of course it wouldn't fool a pescetarian.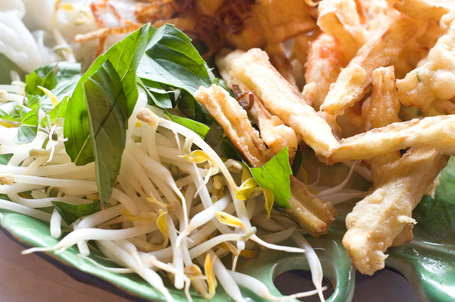 Our next course was the lemongrass tofu you see below. I consider this to be a benchmark item for vegetarian Vietnamese cuisine. It is often used as a component in other dishes in place of meat so you can end up eating a lot of it. Frequently it is underflavored. This one was excellent, far better than the one at Tamarind Tree. The lemongrass was delivered in the form of almost a wet rub, with garlic and ginger and chilis. The only problem was that it didn't come out hot enough. My guess is that the cook made it at the same time as the appetizer and it sat too long.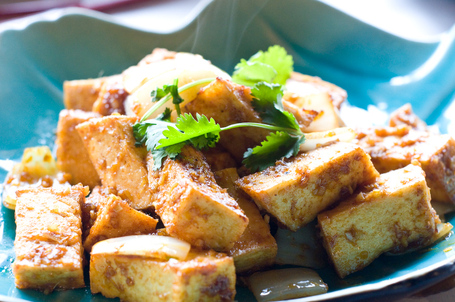 Our final dish was the coconut rice below. Shards of fresh grated coconut provided lots of flavor. Not many restaurants go to that much trouble. I didn't think the peas and especially the carrots added much. Still, this was very tasty.
Overall I think Jasmine can stake a claim as one of the top Vietnamese restaurants in Seattle. I really noticed that the kitchen doesn't take shortcuts. The dishes are made with that extra bit of attention and hand work that makes all of the difference. Combined with the attractive, modern, atmosphere, and good service, and I think you've got a winner.