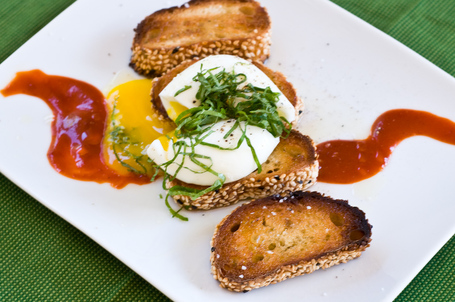 Recipe: Soft-boiled Egg With Shiso and Kochujang (Korean Hot Sauce)
I have pneumonia.
Haven't felt like eating much of anything, but I've been lying around with a fever, deliriously thinking of dishes I want to make when I'm better. Last night I suddenly wanted a soft-boiled egg, and once I was in the kitchen, my evil twin took over for a few minutes and made this.
I know it seems like some sort of fusion nightmare, but when you are under the weather, sometimes strange things sound good. I could trace the stream of associations for you, but it probably wouldn't be that interesting.
Actually, please add a comment and tell us the weirdest thing you ever craved when you were sick!

Soft-boiled Egg With Shiso and Kochujang
Serves 1 sick person
Vegetarian, not vegan or gluten-free
1 egg (room temp or sit in warm water for a few minutes)
4 thin slices of seeded baguette, toasted
1 shiso (beefsteak plant) leaf, chiffonade
Meyer lemon olive oil (O Brand is good)
Kochujang (Korean Hot Sauce, also spelled Gochujang)
Fleur-du-sel
Black pepper
Fill a pot with enough water to cover the egg by an inch, and bring to a boil.
Add the egg, find a simmer, then boil for 4 minutes (or to your preference – I like mine pretty runny)
Remove egg, allow to cool slightly, and carefully peel.
Dilute the Kochujang with a bit of water to make a a spoonable sauce.
Plate as you see in the picture. The Meyer lemon olive oil didn't show up well, but there is lots on the toast and a few more drops on the plate.
Get well soon!