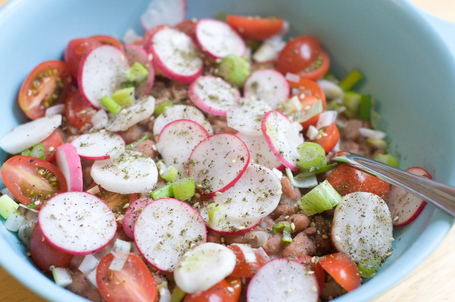 Cranberry Bean "Fool Mudammas" (aka Borlotti Beans)
I'd never worked with Cranberry beans (also known as Borlotti beans) before. By appearance they reminded me of pinto beans with more spots. I knew they were best known for use in Italian soups. But when I boiled them up and tasted them, the flavor immediately reminded me of dried fava beans. And that got me craving Foul Mudammas. (Which can also be spelled Fool Mudammas, or Ful Medames, or Foul Moudammas, yikes!).
Foul is a dish that originated in Egypt and is eaten all over the Middle East and East Africa. It is most often served for breakfast, with a flatbread. And of course there are many local variations. I've had it with a mix of fava beans and garbanzos (chickpeas), thick as refried beans or thin as a soup, insanely garlicky or totally mild, topped with a hardboiled egg or not, and even served with Italian bread at an Ethiopian restaurant, with lots of sliced chilis.
For American tastes, most people (sadly) wouldn't want this for breakfast but would love it for a healthy, vegetarian, vegan and gluten-free dinner.
Nonetheless, I'm pretty sure cranberry beans are not an authentic choice! I suppose not by definition since "foul" means favas. But the flavor and texture was so close, I thought it would work, and it did to my taste.
For the recipe below, you can of course use canned beans, just skip to step 2. Feel free to switch back to fava beans instead of the borlotti beans.
Cranberry Bean (aka Borlotti Beans) "Foul Mudammas"
Vegetarian, vegan, and gluten-free
Serves about 4 as a main course, or more as part of a meze
1.5 c. dry cranberry (borlotti) beans or 3 c. canned beans of your choice
6 cloves garlic
juice of 1-2 lemons
2 T. olive oil plus more for garnish
salt
cherry tomatoes, cut in half
green onions, white parts only, cut in half lengthwise and then 1/4" pieces
radishes, sliced thin
black pepper
If using dried beans, rinse them, pick over to get rid of any extraneous material, and boil in a large amount of unsalted water until tender. You can also soak them overnight beforehand to reduce the cooking time.
Crush the garlic to a paste in a mortar and pestle with a bit of kosher salt. If you don't have a mortar and pestle, use a garlic press or a knife.
Drain the beans and return them to a saucepan with water to just cover. Bring back to a boil and reduce to a simmer for five minutes.
Add the garlic, the lemon juice, olive oil and 2 t. of salt. Turn off the heat.
With the bottom of a glass, or something else large and flat, carefully crush some of the beans to create a thick broth with about 1/2 the beans remaining semi-whole.
Taste and adjust with more salt and/or lemon juice.
Put the beans in a bowl, and garnish with a good quantity of tasty olive oil, cherry tomatoes, green onions, radishes, and black pepper. Sliced hard-boiled egg is nice too.
Serve with pita bread or other flatbread.