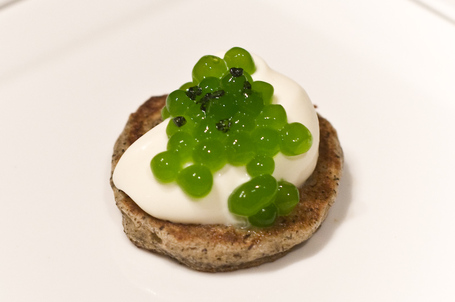 Buckwheat blini with creme fraiche, asparagus caviar, and black salt
Last Sunday was my first "popup" dinner party – a chance to bring together a group of friends who love food, to give me a chance to test dishes and practice this kind of service. I plan to do more of them in the future for a wider audience.
The idea of this dinner was an asparagus tasting menu. Asparagus has been enjoyed since ancient times as a symbol of spring. There is even a recipe from Marcus Apicius, in the oldest known extant cookbook. One of his variations is for a sort of a asparagus fritatta which sounds pretty good.
You can see my menu below (click on it for higher resolution). Most of the dishes came out well. I was happiest with the panko-crusted egg, and the grapefruit/shiso sorbet, which I'll blog about in more detail soon. Less successful was the risotto (overcooked, probably shouldn't have tried to do it for 16 people at once), and the ice cream (forgot it wouldn't be frozen at 32 degrees).
I loved the communal table aspect of this dinner. You could just sense the happy energy in the room, which looked beautiful in candlelight.
Keren at Savvy Savorer was there and blogged about it too. Thanks Keren!
If you are interested in being on the list for future events, drop me a line at herbivoracious [at] gmail.com.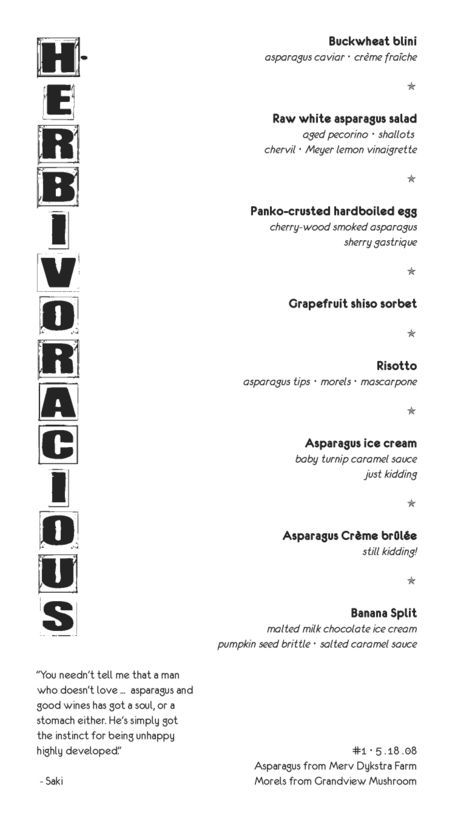 The menu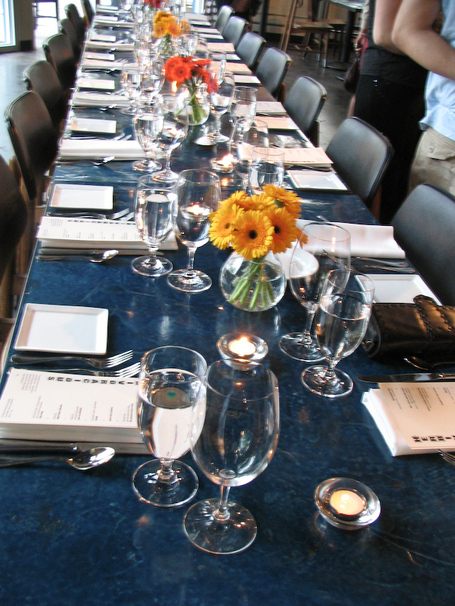 The room looked beautiful