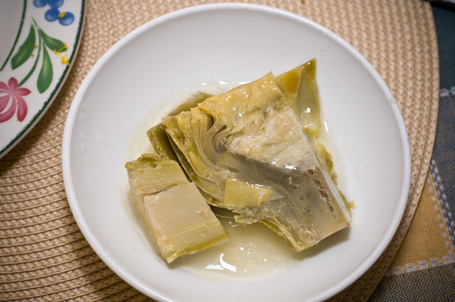 I've eaten at Noni's at least a dozen times over the past few years, and I can never get enough. Just take a look at the beautiful artichoke above. Simmered in lots lemon juice, it whets your appetite for the pastries to come.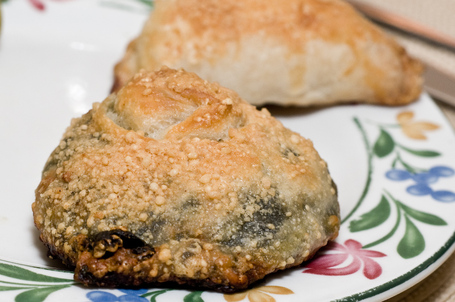 These bolemas are the specialty de la casa. A lean dough is oiled, wrapped around a feta and spinach filling, topped with lots of romano and baked in the oven until crispy. In the back you can just see a bureka, filled with mashed potatoes and cheese. By request you can also have a pumpkin version, which is especially popular with children, just be sure and call ahead.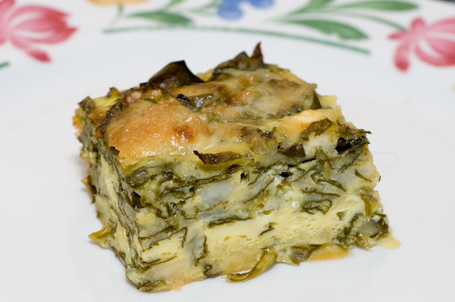 This egg-and-cheese dish is called quashado, though it is quite similar to fritatta. It is rich and deliciously filling. But you better save room for the rice pudding.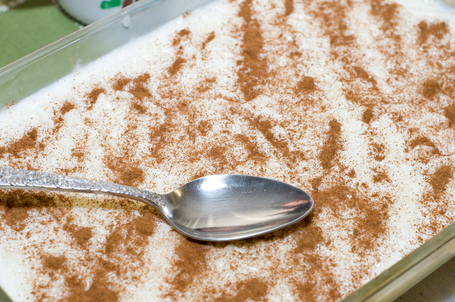 This stuff is creamy beyond belief. Made from short grain rice and stirred continuously, then chilled and topped with cinnamon, it leaves you weak in the knees.
Noni's Kitchen is one of these avant-garde places that runs with a single chef, who also runs food, clears the table, and brings you drinks. She has one (very friendly) assistant who makes market runs with her and helps wash spinach or trim the artichokes, but it is mainly a one woman show. You may think you are hearing Spanish being spoken, but it is actually Ladino – the language of the Sephardic Jews. Don't worry, if you don't understand, just smile and eat what is offered, I promise it will be good.
Now the bad news. I'm afraid you aren't likely to get a reservation here anytime soon.
Noni is my wife Sarina's grandmother, and this is the typical meal she makes on Saturday mornings after Papu gets back from shul. They are Sephardic Jews whose families come from Turkey and Greece, and they have kept up the traditions in a way that is remarkable so many decades removed from the old country.
Papu is a World War II veteran who has amazing stories to tell of the liberation of Dachhau and Noni raised her babies in Army apartments in Oklahoma, both a long way from Seattle where they grew up. I feel incredibly privileged to know them, and to learn a few tricks in the kitchen along the way too.