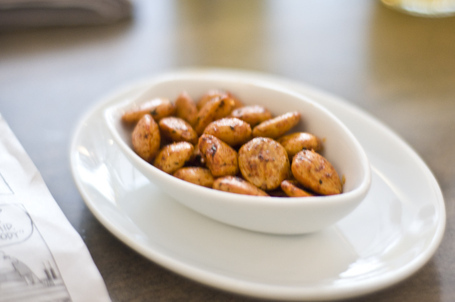 Marcona Almonds with Pimenton and Sea Salt
Welcome to the roundup of our inaugural Seattle Restaurant Review 360! If you missed it, the idea is that we invite all the bloggers in the city to visit the same restaurant whenever is convenient for them, and then publish a review on the same day. For this first event, the venue was Txori, a Basque-style pinxtos (tapas) joint in Belltown.
Kathy Casey of Dish D'Lish fame is so "in love with this romantic cuisine" that she was inspired to create her own (awesome sounding) sherry and vodka cocktail with a smoked paprika and sugar rim! Very cool that she expanded the concept of a review to doing her own riffs on the flavors.
Tofu Hunter, like me, was looking for the vegetarian options, and enjoyed the cauliflower and the chickpeas with spinach. She really made me want to try the Cava Manzana Verde a sparkling wine and apple cocktail "made absolutely alluring with the inclusion of arbequina olive oil." How good does that sound?
GatroGnome found "the meal, to me, fulfilled exactly what a tapas place is truly supposed to. We enjoyed a drink, we munched a little, we hung out". On her recommendation, next time I'm trying the Kalimoxto ("red wine and coke with a hint of orange.")
Hungry Girl dined solo and fell in love with the octopus. "One bite and I was in a whole different world. It wasn't just tender, it was juicy, like a piece of pork. And flavored with smoky paprika and spicy olive oil." If I ate tentacles I'd be right there.
SeaDevi of Capitol Hill Triangle experienced more of a mixed bag. She "loved the atmosphere, the space, the design and vibrancy of this place", but the "salt cod and the onion tart disappointed" her, and found "the drinks are not as affordable as the eats".
Sig of Sig and Siv snuck over with some girlfriends awhile back, right after she came home from Spain, so she can "say without doubt that the taste was very authentic!" She has pictures of many of the dishes. Her favorite bite was the pera a la plancha con valdeón – a baguette slice with grilled pear, blue cheese and walnut, which I also enjoyed.
Dawn and Eric of Wright Eats had a completely different experience. On Monday nights, Txori has started hosting a family style dinner called Txoko ($45). In addition to a couple of pintxos, they had beet salad, fish soup ("salty"), a suckling pig ("delicious"), a cheese course, and dessert! They "like this type of communal dining event because it's fun to meet like-minded people and swap Seattle dining tips."
And finally, from the vegetarian point of view, I was a huge fan of the bocadillo (little sandwich) of potato tortilla (Spanish omelette) on a Columbia City Baker roll, and the marcona almonds (pictured above). I really enjoyed the opportunity to taste lots of little bites of great food in an informal environment.
Thanks everyone who participated! I think we may have a couple late entries coming in, which I'll add above. If I missed anyone, please email me right away.
Questions to bloggers and readers both: Was this fun? Useful? DId you get different perspectives? Should we do it again? Any suggestions for the next venue?