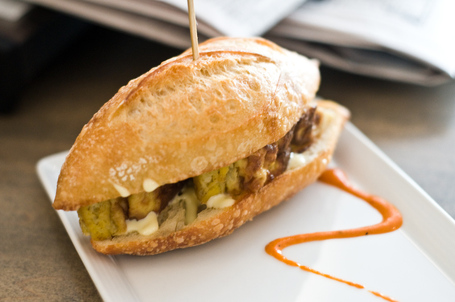 This is my own entry in our first Seattle Restaurant Review 360. Here is the roundup of all the other participants.
When we first walked in Txori, Sarina said "no wonder you wanted to come here, this is (basically) the restaurant you want to run". She has a way of cutting to the chase like that.
Txori, pronounced CHO-ree, is on 2nd St. in Belltown, and is the younger sister of Chef Joseba Jimenez de Jimenez' Harvest Vine. Although Harvest Vine is a fairly expensive restaurant, it has always had an informal feel, especially at the counter. Last time I was there, Chef was handing out (incredible) raisins he had house-dried and sparking lively conversations between tables.
Jimenez cuts a noteable figure with his sizeable girth, handlebar mustache, and floppy Basque beret, and he has a way of keeping a room lively. When I was working at Cafe Flora, we were part of a multi-restaurant benefit for Bailey-Boushay house with him down at the waterfront. Seeing Jimenez clown around in the walk-in freezer with Chef Janine from Cafe Flora was priceless!
Anyhow, Txori enshrines the informality of Harvest Vine in a great little pinxtos bar, which gives you the opportunity to sample Jimenez' cuisine at a much lower price point, and without the commitment of a full meal. What are pinxtos? Simply the Basque word for tapas.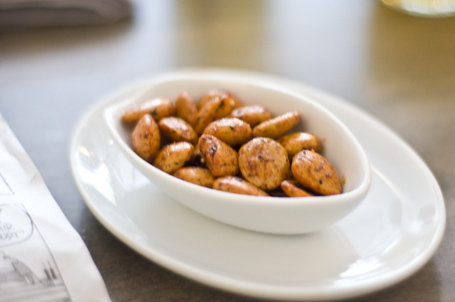 When you walk in to Txori, the entire small open kitchen is on your left, with a standing bar where you can hang your coat and have a nosh on the run. Your other options are a few high tables near the bar, or a few more in back where you can sit down for a more leisurely visit. The cooks are very much engaged with the customers, ready to discuss the dishes with you and your server.
Plates come in two sizes: pinxtos, which are just a couple of bites and range in price from $1.50 to $4.00, and raciones which are a bit larger and more expensive. There is a printed menu, and always several specials on the board as well.
From a vegetarian point of view, Txori has plenty of good options. The menu is heavy on ham and seafood of course, but there are always at least a half dozen choices for us herbivores, and the servers are happy to help figure them out.
On our first visit, I was excited to see the fried cauliflower on the chalkboard. I'd had that at Harvest Vine and was in love with it. Simply fried in olive oil until tender and brown, drizzled with more oil, and then prettily arranged back in the shape of the original head, it is much more delicious than I can explain.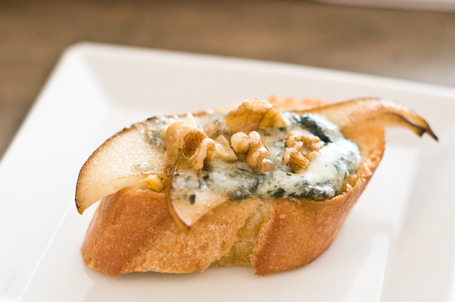 Unfortunately, on this occasion, it didn't get enough sea salt before coming to the table. And it led to the only slightly uncomfortable moment we had. The dish is much too good to eat underseasoned, and there was no salt on the table. So I had to ask our server for some salt, who in turn asked the cook. And it was provided, but there was a vibe from the cook that he was none too happy. What can I say? I prefer that a restaurant provide a good salt on the table. Everyone's tastes vary, and in any case there is no doubt that this cauliflower needed some.
On that trip we also had a trio of marinated olives, and a little ramekin of melted tetilla cheese in tomato sauce, both of which were delicious with a glass of Basque wine. Other choices from the full bar include a house sangria, specialty cocktails, and espresso.
For my return visit, I again tried 3 dishes (all pictured above). The first was fried marcona almonds with smoky paprika (pimenton) and sea salt. A perfect salty bite with a drink. Next was a magnificent bocadillo (little sandwich) of Spanish tortilla (cold potato fritatta) on a small torpedo shaped roll from Columbia City, with a spicy aioli. It was so tender and tasty, just a total winner. My final pintxo was a tasty baguette slice with melted blue cheese, roasted pear, and walnuts. With an orange soda, the total came to just $15.
It gives me a lot of pleasure to see more places offering top-notch flavors and presentation outside of the confines of a traditional full-service and white tablecloths environment. Seattle is kind of a hotbed of these experiments right now: Sitka and Spruce, Cache, Art Of The Table, Quinn's, Skillet, Elemental, and One Pot, to name a few, are all pushing the boundaries of what it means to be a restaurant in America, 2008.
Txori is an excellent addition to that company. I love the ability to just drop in and have a few great bites, without breaking the bank or setting aside a whole evening. I'll be dropping by whenever I'm in Belltown.