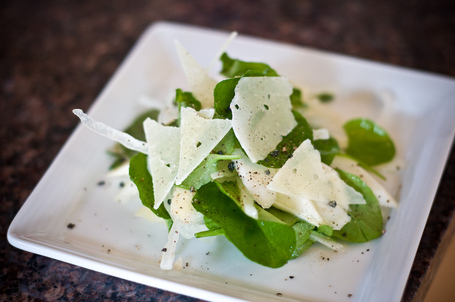 White Asparagus Salad with Watercress and Romano
I'm starting to test recipes for my first Herbivoracious dinner party. My first event is going to be an asparagus tasting menu, a celebration of Spring coming to the Northwest. It isn't for a few weeks, and neither is local asparagus! I'm having to test with California spears for now.
(By the way, the first dinner is full, but if you are interested in attending a future event in Seattle, drop me a line at herbivoracious [at] gmail [dot] com, with "dinner" in the subject, and I'll keep you posted).
This salad has been marinating in mind for a bit. No pun intended. I wanted to do something with thinly sliced raw white asparagus, which has a nice vegetable sweetness and crunch to it. In this version I paired it with watercress, cipollini onions, aged pecorino romano, and a grapefruit vinaigrette. Everything worked really well, but the vinaigrette needs some work to bring out more of the citrus flavor. Grapefruit is a lot less acidic than lemon, so that makes sense to me. I think next time I will try using more of the zest and a little bit of a neutrally flavored vinegar.
Here's an approximate recipe:
White Asparagus Salad with Watercress and Romano
Vegetarian
Vegan if you omit the cheese
Serves 1 – multiply as needed
vinaigrette: 2 parts good olive oil, 1 part fresh squeezed grapefruit juice, 1/2 t. grapefruit zest, salt to taste
2 spears of thick white asparagus
a few paper thin slices of cipollini onion or shallot
handful of watercress, arugula, or mache
4-5 paper thin slices of pecorino romano, or parmigiano reggiano
salt and pepper
Drizzle and whisk the olive oil into the lemon juice vinaigrette to emulsify, then add the zest and salt to taste.
Snap off the tough ends of the asparagus, peel, and slice very thinly on a diagonal bias.
Cut the cheese with a vegetable peeler.
Just before serving, toss the asparagus, onion, and greens with the dressing, arrange on plate and top with the cheese and a bit of finishing salt and black pepper.