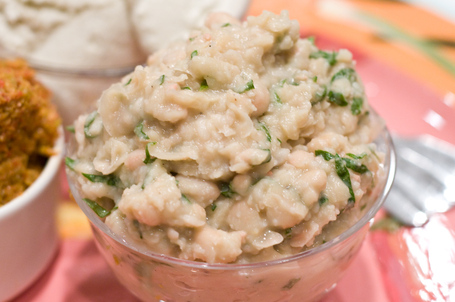 Crostini with White Beans and Basil
This is the last of the three crostini toppings I did for the recent Kavana Men Cook event, and it is admittedly similar to the other white bean dip I posted awhile back with grilled onions. This version is pared down further, focusing simply on clear flavors from the Meyer lemon and basil. Garlic and/or chili flakes would be appropriate additions, and you could use fresh parsley, tarragon, or oregano instead of the basil.
Crostini with White Beans and Basil
Serves 6 as an appetizer
Vegetarian and vegan
1 baguette
1/4 c. peppery olive oil
one 15. oz cans cannelini, drained and rinsed (or cook your own)
juice of 1 Meyer lemon
1/3 c. basil, chiffonade
1 t. sea salt
1/2 t. fresh ground black pepper
Preheat oven to 400 F.

Lightly mash the beans and mix in 2 T. of the olive oil, the lemon juice, basil, salt, and pepper. Adjust seasoning as needed.

Slice the baguette thinly, arrange in a single layer on a baking sheet. and brush with the remaining olive oil.

Toast until golden brown, and serve immediately.