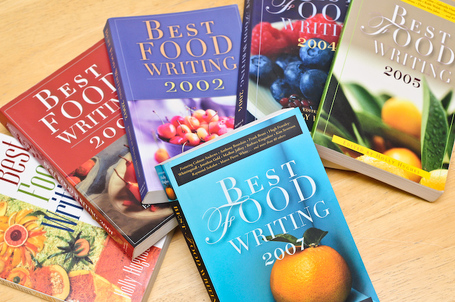 (By the way, if you like this blog, please give a thumbs up on:

)
Holly Hughes started this "Best Food Writing" collection back in 2000 and has published a new edition every year since. And every year I grab the new one and devour it in a day or two.
It has been fun to watch the evolution of the series. Back in 2000, food blogs, Food Network and celebrity chefs were not major players in the food world and didn't figure in her roundup. The writers were mainly well known authors for major newspapers and magazines, or wrote their own books and newsletters. Ruth Reichl, Michael Ruhlman, Jeffrey Steingarten, Eric Asimov, R.W. Apple, John Thorne and many more, all heavyweights in the field. By 2007 we see a much more diverse group, including several pieces that were originally published on blogs or other websites.
Hughes combs thousands of pieces every year to make her selections, and I think she does a fine job. There are always a few that I've read in the original, and usually they caught my eye too. For example a story about traditional Breton crepes by Nancy Coons had me drooling when I read it in Saveur, and here it is again… time to go buy some buckwheat and hard cider!
She also makes a good effort to organize the pieces around dominant themes. This year we have Food Fights (people arguing about the politics of food), Home Cooking, Someone's In The Kitchen, Dining Around, Fast Food, The World's Kitchen, The Meat of the Matter, Personal Tastes, and Why I Cook, each with four to eight articles.
By the way, if you are a fellow vegetarian, please don't let that stop you from enjoying this kind of food writing. I find that plenty of it is about foods that I do eat. And of course there are significant parts about meat, but I find I still take pleasure in reading about other people's ways of relating to and enjoying food, even if they don't work for me. You'll find plenty to challenge and/or reinforce your choices. (Though I have to say this piece by James Sturz over at leitesculinaria.com made me want to vomit. And I bite too.)
Inevitably when I read the collection, it points me to additional books that I just have to get. For example, the very first piece this year made me resolve to read Barbara Kingsolver's Animal, Vegetable, Miracle and Madhur Jaffrey's Climbing the Mango Trees.
If you are a fan of food writing, I'll bet you if you buy this year's, you'll be lined up when 2008 comes out! Hey, maybe I'll be in it :).