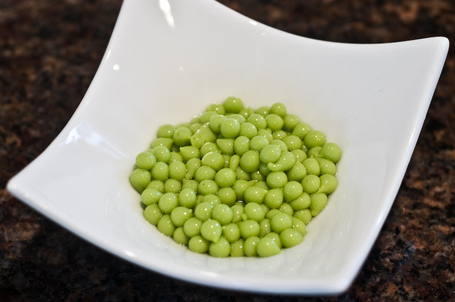 Asparagus Caviar
(By the way, if you like this post, please give it a Thumbs Up on Stumbleupon – much appreciated!)
So, I'm working more on dishes for my first Herbivoracious dinner party. I want the amuse bouche to be traditional buckwheat blini with creme fraiche and asparagus caviar. The caviar is made using the spherification technique pioneered by Ferran Adria. You need sodium alginate (derived from seaweed), and calcium chloride. (A good source for this stuff is WillPowder if you want to play). You can also make big balls, "raviolis", worms and so on.
The technique isn't really hard, in fact a three year old can do it!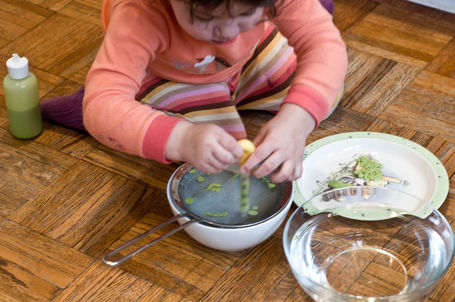 When Kids Do Molecular Gastronomy in Their Jammies
… ok, well, maybe a 3 year old can't make perfect little caviar pearls, but believe me she can have good fun trying! Yes, I'm a proud Dad, but I was also thinking that my daughter is probably the only 3 year old in the world who at this exact moment is doing molecular gastronomy.
I wasn't totally happy with the asparagus balls because I really wanted them to be clear, but these came out opaque. If I filter the liquid to make it clear, there isn't much taste left. Oh well, more screwing around to come.
(Enjoying this post? Get more like it by subscribing to our feed).
The basic schtick is:
Puree whatever you want to spherify, and strain as needed. It can't be anything too acidic, for that you need a different magic powder.
Add about 0.3% alginate by weight to the liquid and blend the heck out of it. Ideally let it sit for awhile so the bubbles come out.
Make a solution of about 0.7% calcium chloride by weight of water. You don't need much, a small bowl is good. A bowl where you can fit a strainer (see pic above) works well so you can just lift it out and catch all your caviar at once.
Have another bowl of clear water handy too.
To make caviar, fill a syringe (with no needle) or a small squeeze bottle with the alginate mixture. Start dripping little drops into the calcium chloride solution. Experiment with how hard you squeeze, how high above the water you drip and so on to get nice little spheres.
Drain and dip in the clear water to rinse off excess calcium chloride.
Pop in your mouth and experience a sense of wonder.
If it isn't working well, up the percentages as high as 0.5% alginate and 1.0% calcium chloride.
To do worms, put the syringe under water and squeeze. To do ravioli, fill a spoon with the alginate solution and kind of lower/tip it in. Play!
I tested the blini and creme fraiche separately, and just to have the asparagus taste in the mix I roasted one little tip. Tasted pretty good I think. I'll let y'all know how the final version comes out.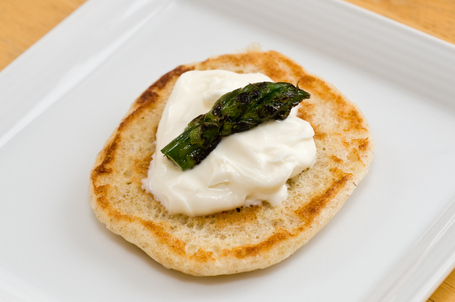 Blin With Creme Fraiche and Roasted Asparagus