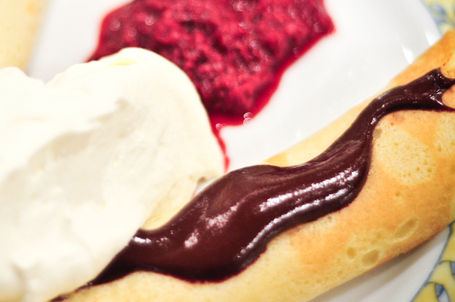 Valentine's Day Crepes with Chocolate Ganache And Raspberry Compote
This is the first of several posts of the dishes I did for the men's cooking group of Kavana, a cooperative Jewish organization that we have been involved with recently. Eric L., the creator of CellarTracker.com normally leads the group, but he's down with a shoulder injury. So he and his family hosted at their beautiful house and provided amazing wine, and I led the cooking with a group of 13 enthusiastic sous chefs. It was great fun!
Normally I'd post the recipes in order starting with appetizers, but with Valentine's Day right around the corner, we better begin with a dessert to knock your sweetie's socks off. (Or other items of clothing). Although there are a few steps, it really isn't much harder than making pancakes. Add a chocolate ganache, quick raspberry compote, and whipped cream and I dare you not to be happy. Eric paired this with a Heitz ruby port which I think was ideal.
The batter recipe is classic Julia Child. You can make it a day ahead if you like. If you have Mastering the Art of French Cooking, she goes in to her characteristic fine detail for perfecting your crepe technique. Page 190 in my well-worn old hardback copy that I inherited from my Mom. Definitely worth a look.
Valentine's Day Crepes with Chocolate Ganache And Raspberry Compote
Serves 4-5
4 T. melted butter
1 c. cold water
1 c. whole milk
4 eggs
2 c. sifted all-purpose flour
1/2 t. kosher salt
vegetable oil for the pan
8 oz. good bittersweet or semi-sweet (Scharffen-Berger or Callebaut are fine choices)
1 pint heavy cream (for ganache and whipped cream)
3 T. powdered sugar
one small bag frozen raspberries
sugar as needed
Combine the melted butter, cold water, milk, eggs, flour and kosher salt in the blender and whir for a minute. Refrigerate the batter until ready to use. Better if it chills for an hour, but not mandatory. The consistency should be like a quite thin pancake batter. Stir in a bit more cold milk if necessary.
Roughly chop the chocolate, add 1/2 c. of the heavy cream, and melt in the microwave or double boiler, whisking occasionally until smooth. Add more cream if needed to make a fluffy ganache. Do not refrigerate. (To do this in the microwave, heat at full power for 30 seconds at a time in a microwaveable bowl, stirring in between, until melted and smooth).
In a small pot, melt the raspberries, and whisk occasionally until they turn into a sauce. Add sugar, and a pinch of salt to taste. Continue to simmer until slightly thickened. A little lemon juice or zest is nice here too.
Whip the cream with the powdered sugar.
To cook the crepes, heat one or two crepe pans or 8" non-stick skillets over a medium flame. Wipe with a bit of vegetable oil. Pour in 1/4 c. of batter, and quickly swirl to coat. Let cook until just slightly brown but not crisp, about 60 seconds, then flip and cook for another 30 seconds.
To serve, put a spoonfull of the ganache in the center of each crepe and roll or fold. Place on plate with a spoonful of the raspberry compote, drizzle with more ganache, and add dollop of the whip cream. Two crepes makes a good serving.