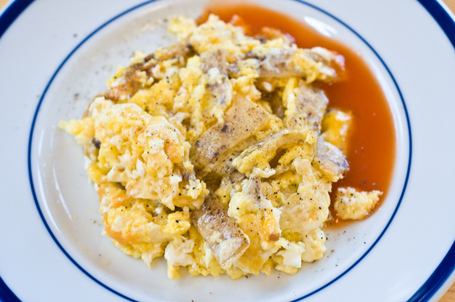 Mexican Matzo Brei or Jewish Chilaquiles
Matzo Brei is a classic Jewish egg dish, often eaten during Passover when leavened bread is forbidden. (Matza can also be spelled Matzo, Matzoh, or Matzah). Everyone has their own preferred technique. Some like to soak the matza in water first and the drain it, some soak it in the egg like French toast. Some break it up large and some small. Some fry it up like an omelette in a solid cake and others break it up like scrambled eggs.
Chilaquiles are a classic Mexican dish in which corn tortillas are fried up crispy with scrambled eggs. Again, everyone has a style, with different choices of cheese, sauces, chilis, etc.
We happened to have Trader Joe's "Handmade" Corn Tortillas on hand today, and I felt like making chilaquiles. But these thicker tortillas don't easily fry up crispy, they develop more of a tender texture that reminded me of the matzo brei. Absolutely delicious! Here's the recipe:
Mexican Matzo Brei or Jewish Chilaquiles
For 1
1 Trader Joe's "Handmade" corn tortilla, torn into small pieces
1 T. canola oil
2 eggs, lightly beaten
3 T. grated cheddar cheese
salt, pepper
hot sauce
Heat a non-stick skillet over a high flame. Add the canola oil, and a few seconds later toss in the tortilla pieces.
Fry for a few minutes, shaking occasionally until the strips are a little crispy but still chewy.
Add the eggs, salt and pepper and cook like normal scrambled eggs.
When the eggs are just about done, add the cheese and cook til melted
Serve with your favorite hot sauce. I've been enjoying Bullard's Louisana Habanero lately.