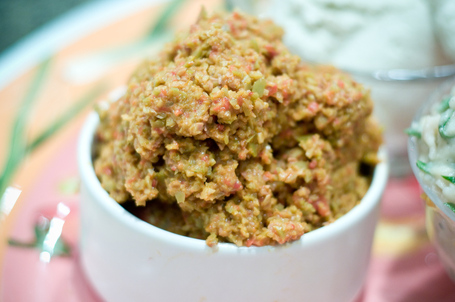 Crostini with Spanish Green Olive Tapenade
This is the second of three crostini toppings I made for our Kavana Men Cook event. This one has straight ahead Spanish flavors with the green olives, orange zest, and smoked paprika. It goes together in just a minute in a food processor. This tapenade is on the thicker side and works better as a crostini or bruschetta topping than as a dip.
One small trick here is to soak the olives in hot water for a few minutes to remove some of the saltiness. You can do the same with black olives or capers in similar recipes.
Crostini with Spanish Green Olive Tapenade
Makes 1 c. for use as a crostini topping
Vegetarian and vegan
1 oz. roasted red peppers (or better, piquillo peppers) drained
1 c. high quality pitted green olives
zest and juice of 1/2 orange
1/2 t. chili flakes
1/2 t. smoked paprika (like pimenton dolce)
Soak the olives in hot water for 5 minutes or so and then drain them.
Combine all ingredients in a food processor and pulse until it holds together but is still somewhat coarse.
Taste and check seasoning.