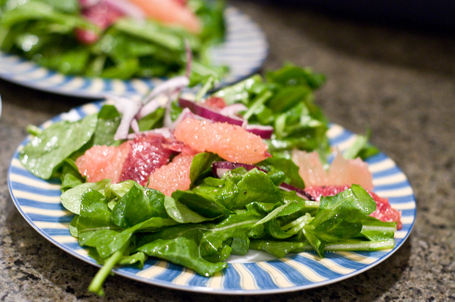 This is the salad course we did for the Kavana Men Cook event. We used a combination of arugula and mache, two very flavorful greens that have the slight bitterness to combine well with the bright citrus fruit. The blood oranges and grapefruit supremes looked great, and the sharp sherry vinaigrette brought the whole thing together. A few thin slices of red onion seal the deal.
When I use raw onions like this, I like to keep the slices in ice cold water until just before serving. The cold keeps the sulfur compounds from being as volatile, so the onion tastes sweeter. Just drain them well before plating.
Citrus Salad with Sherry Vinaigrette
Serves 4
Vegetarian and vegan
2 T. sherry vinegar
1/2 t. dijon mustard
6 T. olive oil
salt to taste
pepper to taste
2 blood oranges or mandarins, cut into supremes
1 grapefruit, cut into supremes
1/2 small red onion, cut in to paper thin slices
4 handfuls of arugula and/or mache, trimmed, washed and thoroughly dried
Chill the serving plates in the refrigerator.
Combine the sherry vinegar and dijon mustard. Whisking continuously, add the olive oil drop-by-drop at first and then in a thin stream until it is emulsified. Add salt and pepper to taste. The dressing should be highly seasoned.
Prepare the citrus, onions, and greens.
To serve, toss the greens with the dressing and place them on a cold plate. Top with the citrus and onions, and a final sprinkle of sea salt and black pepper.