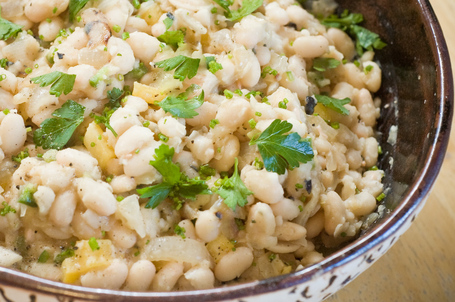 Lemony White Beans With Grilled Onions
I made this for a Seattle food blogger brunch put together by the Keren Brown, aka The Savvy Savorer. She told me her husband was making his lachooch (a delicious, slightly spongy Yemenite flatbread that reminded me a lot of Ethiopian injera, only thicker). I can't find anything about it on the web, Keren care to provide us with a recipe?
Anyhow, I figured it would go well with lemony beans, so I came up with this simple white bean salad. The flavors are basically Italian, but I snuck in a bit of preserved lemon to add a Middle Eastern twist. If you don't have preserved lemon handy just add another fresh lemon. I love the flavor of preserved lemon but you want to go easy with it for general audiences – some folks may feel it tastes like Lemon Pledge in large quantities!
Grilling the onions adds another hit of flavor. You could do that on a barbeque if it is convenient, but you can also use a grill pan or cast iron skillet.
White bean salads like this are very versatile. You can bring them as a potluck dish, use them as a side salad, have them as the main even of a light lunch, smash them a bit and offer as a dip, or even serve them hot as the base layer of an entree plate.
This recipe is vegetarian and vegan.
Lemony White Beans With Grilled Onions
Serves 12 as a side dish
Vegan and gluten-free

6 c. cooked white beans (such as cannellini)
1.5 large sweet onions
6 cloves garlic, minced
1/2 c. extra virgin olive oil
zest and juice of 2 lemons
1/2 preserved lemon, interior only, chopped fine
salt to taste
1 t. black pepper
1/4 c. packed sage leaves, chiffonade
1 T. minced rosemary leaves
1 jalapeno, minced
2 yellow bell peppers, diced small
1 handful flat leaf parsley, minced (reserve a few leaves for garnish)
1 handful chives, minced
Cook the beans (or open a can), and drain thoroughly. Heat (or cool, as the case may be) the beans to a very warm temperature so they absorb flavors.
Slice the onions into thick circles and grill until fairly charred (see note above), then dice.
Combine all of the ingredients thoroughly and check for seasoning.
Serve warm or at room temperature. This will keep for a few days in the refrigerator and the flavor will continue to improve.