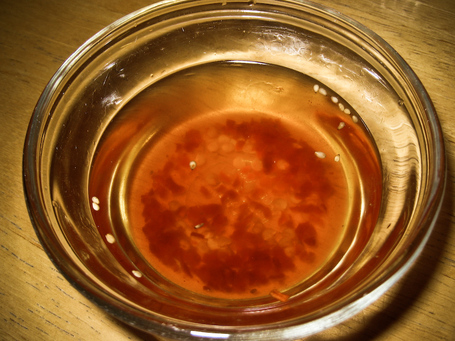 This simple sauce is similar to a vegetarian version of Vietnamese nuoc cham, suitable for serving with spring rolls or or pouring over a rice bowl. I've been wanting to find a good way to get a strong flavor of kaffir lime leaf, and this really worked out great.
I should mention that kaffir lime is considered an offensive term, although it is by far the most commonly used name for this plant. Makrut lime is more acceptable. But I've never actually heard it used. The leaf infuses a big, round citrus flavor without any acidity. The closest substitution would probably be normal lime rind but it is by no means the same. You should be able to find it at a good Asian specialty market, especially one that offers a Southeast Asian selection, or an Indian grocery.
The idea with this sauce is to get a nice balance of sweet, sour, spicy, salty, and the citrus. Once you mix it up, give it a good taste and adjust any of the components to get exactly what you want.

Kaffir Lime Dipping Sauce
Yields about 1 cup
Vegetarian, vegan, and gluten free if you use a wheat-free soy sauce

3/4 c. water
1.5 T. sugar
6 kaffir lime leaves
2 t. salt
1.5 t. chili flakes
1/4 c. rice vinegar
1 t. tamari or soy sauce
Bring all of the ingredients except the rice vinegar and tamari to a boil in a small saucepan and remove from the heat.
Allow to steep for 15 minutes, then remove the lime leaves and allow to cool.
Stir in the vinegar and tamari.
Taste and adjust the seasonings. You should be able to clearly taste all of the components except the tamari.
Variations: you could add some or all of finely sliced scallions, ginger, garlic, or cilantro. The rice vinegar could be replaced with a coconut or citrus vinegar. The chili flakes could be replaced with a minced fresh chili of your choosing.