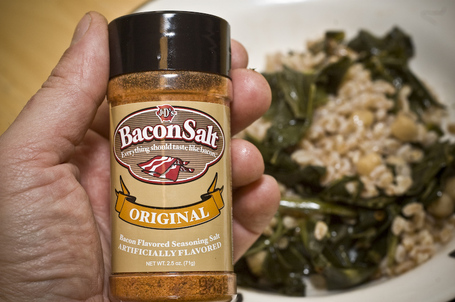 Farro with Collard Greens and Bacon Salt
Yep, you heard me right. Bacon Salt. It has been all over the blogosphere lately, but I had no idea it was vegetarian until Keren brought some to give away to our last food blogger get together. I shouldn't have been surprised, as processed bacon bits are a soy product too. I generally don't cook with artificial flavors, but I took it as a challenge to use it at least once, and I have to admit I liked the results.
Greens are often cooked with pork in both the American south and in Italy as well. I had some beautiful pearled farro that I brought home from our Italy trip, so a plan came together for a simple and hearty one-pot meal.
If you haven't used farro before, I really recommend you try some. It is a very ancient whole grain, one of the staples of the Roman poor. I find the flavor somewhere between wheat and barley. It is a very nice change of pace from rice and couscous.
This recipe is vegetarian but not vegan because the bacon salt contains milk products of some sort.
Farro with Collard Greens and Bacon Salt
Serves 4
4 servings of farro (see below)
1/2 small can chickpeas, drained
3 big bunches of collard greens or other strong-flavored greens (not spinach)
1 white onion, diced
6 T. extra virgin olive oil
2 cloves garlic, sliced thinly
1 t. chili flakes
1 t. Bacon Salt (or regular salt and smoked paprika)
Cook 4 servings of farro according to package directions. (Actually you should probably make 6 servings because serving sizes are always too small, right!). There are a number of different types with different cooking times, so it is better if I don't give you specific details, but cook until it is tender but not falling apart. Drain, and stir in chickpeas.
Remove stems from greens, rinse thoroughly and chop coarsely
In a large soup pot, fry the onions in 2 T. of the oil. When slightly brown, add the chili flakes and garlic and fry for 20 more seconds.
Add the greens and a small splash of water if they aren't wet. Cover. After a minute or two, reduce heat to medium low. Stir occasionally until they are very thoroughly tender and wilted.
Remove from, drain excess water, and toss with the remaining olive oil and the Bacon Salt.
To serve, simply put the farro in a bowl or on a plate, top with the greens, and lightly toss. Pass more good olive oil, sea salt, bacon salt, and black pepper at the table.