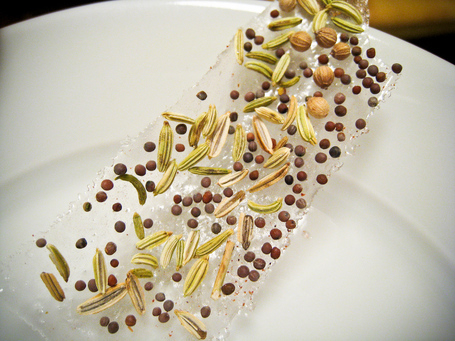 I've been hearing for awhile about this product called isomalt, which is a modified sugar. It has the interesting property that it can melt and form into thin sheets like caramel without turning brown. It is only about half as sweet as table sugar too, so it is easier to use in savory applications.
Modernist cuisine wizards can make isomalt into paper thin vessels filled with liquids, and I had hoped to make a sort of creme brulee capsule at some point. But for my first foray, I thought I would make some simple croquants (think: peanut brittle) with various spice mixtures. The idea would be to garnish a dish with them, allowing the eater to snack on them directly or crumble over a dish.
You can see the results above and below. The top one has black mustard, fennel, and coriander seeds, suitable for use with an upscale Indian presentation. You don't need to toast the seeds in advance because they cook in the oven along with the isomalt. In the future I'd use less mustard because the flavor was a bit overwhelming.
In the pictures below I tried different flavors and forming three dimensional ribbons.  The one in the upper left is sesame and Maldon (aka the world's greatest salt) salt, and the one in the upper right has Japanese chili powder, black sesame, and pink Hawaiian salt.
The basic technique is:
melt the isomalt in a saucepan to 260 degrees F. while stirring as little as possible
pour out onto a silpat lined baking sheet and let cool – at this point you will have a thick, hard sheet of candy glass
break into manageable chunks and grind to a powder. I used a coffee grinder.
on a fresh silpat, create a stencil of the shape you want. I just laid down two chopsticks to form a rectangle
sift the isomalt powder into the stencil. you can play with how thick or thin a layer to use.
add the seeds, salts, or other flavorings
melt in a 300 degree F. oven
as soon as it turns clear, remove from oven
(this is where it gets dicey) let it cool just a few seconds and then VERY CAREFULLY peel the shape off the mat, trying to neither burn yourself nor destroy the shape. Then, working quickly, apply any twists or shaping you want and set on a cool plate. If it cools before you can shape, try a very brief reheating.
There seem to be a whole host of more advanced techniques to try, including grinding in spices or other seasonings with the powder, adding some table sugar, doing a much more lacy, thin sprinkle, forming tubes or spheres, spinning, etc. I'll let you know if I have any success with them!
If you'd like to experiment yourself, you can purchase isomalt powder from ChefShop.com.