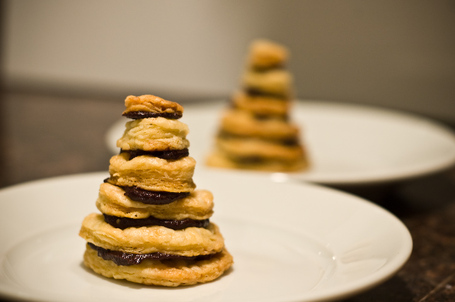 Let's consider the problem:
I have a bit of leftover flaky pie crust dough
I really want something chocolatey, but quick
I'm obsessed with circle cutters
Solution:
The cookies above. Recipe: Cut out pie dough with a successive series of cutters, starting at maybe 2.5 inches down to the smallest size you have. Bake til golden brown. Heat up a small amount of cream, pour it over finely chopped chocolate, wait a minute, whisk, spread on the bottom of all of the circles except the largest, stack 'em up, watch Get Smart reruns while unstacking and experiencing mild glee.
Extra credit:
Use a squeeze bottle to decorate a plate with any extra ganache.