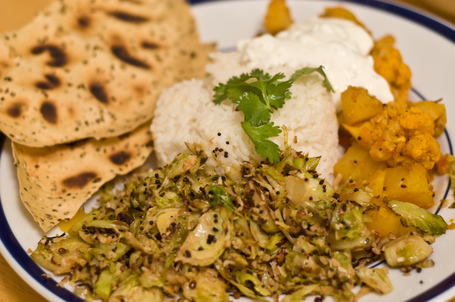 This is the season for great brussel sprouts, and I've seen lots of great recipes for them. I decided to take my sprouts in an Indian direction the other night. It is pretty simple, I just shredded them and pan fried them with black mustard, black caraway, and cumin seeds, and toasted coconut. This dish is vegetarian, vegan, and gluten-free. I served it with basmati rice, aloo gobi (potato and cauliflower curry), cucumber raita (yogurt sauce) and papadums.
Mustard and brussels sprouts are both in the brassica family, so the seeds really complement the flavor. The key, as always with anything in the cabbage world is not to overcook them, otherwise you will bring out unpleasant sulfury flavors.
Fresh green chilis, ginger, garlic, or onions would all be welcome additions to this dish.
By the way, check out my page on tastespotting.com for a visual index of all the photos from the site. And be sure and press the "*" button on the pictures if you like them, so other folks will find 'em too!
Brussels Sprouts with Seeds and Coconut
Serves 4 as a side dish
Vegetarian, vegan if you use oil instead of butter, and gluten-free

3 c. brussel sprouts, trimmed and sliced thin
2 T. ghee or 1 T. butter and 1 T. oil
2 T. urad dal (optional)
1 T. black mustard seeds
2 t. black caraway seeds (regular caraway is ok in a pinch)
2 t. cumin seeds
1/2 c. shredded unsweetened coconut, toasted to light brown (I'm sure fresh would be even better)
2 t. kosher salt
2 t. jaggery or brown sugar
2 t. garam masala
fresh lime or lemon juice (to taste)
Microwave or steam the brussel sprouts for 4 minutes so they are nearly tender.
In a large skillet over high heat, melt the ghee or butter and oil
If you have ural dal (a type of Indian split pea) available, fry it until it starts to turn reddish brown (a couple minutes). This adds an additional crunchy element.
Add the mustard, caraway, and cumin seeds and fry until the mustard seeds pop for a few seconds
Add the brussel sprouts and stir-fry until cooked through (2 minutes)
Add the remaining ingredients, toss, and check seasoning