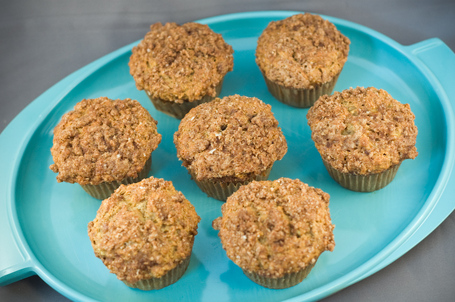 Banana Muffins With A Crumb Top
Most banana muffin recipes seem too sweet to me. I want to taste banana, not overpowering sugar. This version is a composite of several recipes, putting together all the bits that we like (borrowing the most from this one at Allrecipes). Mini-me had a great time sprinkling on the crumb topping, which has a few flakes of sea salt in it.
By the way, how do you like that vintage Melmac serving plate? I have a few hundred pieces of the stuff, the remnants of an even larger collection from my post-college years. I think I'll start busting them out for more blog photos.
It occurred to me afterwards that caramelizing the bananas first to bring out even more of their flavor might be good. That or using some of the smaller, intensely flavored bananas that good stores carry these days. If anyone tries either of those ideas, please comment and let me know how it turned out!
Banana Muffins With A Crumb Top
Makes 10 muffins
Dry:
1 1/2 c. all-purpose flour
1 t. baking soda
1 t. baking powder
1/2 t. salt
Wet:
3 ripe bananas, mashed
1/2 c. brown sugar
1 egg
1/3 c. unsalted butter, melted
Crumb topping:
1/3 c. brown sugar (preferably something delicious like Muscovado)
2 T. all-purpose flour
1/8 t. cinnamon
pinch or two of flaky finishing salt (like Maldon (aka the world's greatest salt)), optional
1 T. butter
Preheat oven to 375 and grease or line 10 cups of a muffin pan
Mix the dry and wet ingredients thoroughly and separately
Fold the dry into the wet, without mixing any more than necessary to combine. Overmixing will make them tough. Fill the muffin cups.
Cut the butter into the rest of the crumb topping ingredients like you were making pie crust, and then sprinkle evenly over the batter.
Bake about 20 minutes until a tester comes out dry.