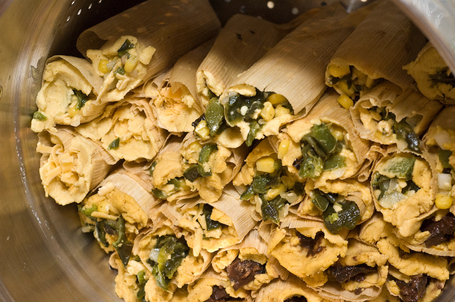 The Christmas season is a funny time of year for us Jews. Hannukah was a couple of weeks ago, so now while everyone who is Christian is running around buying last minute gifts and then settling in for family visits, we're mostly chilling at home and trying to figure out how we can survive without an espresso bar for two days. Visit a Chinese restaurant on Christmas night and you'll find it full of Jewish folks polishing off big plates of mu shu.
Anyhow, I look at all this time off as an opportunity to take on cooking projects that are bit more labor intensive than usual. So when we were figuring out what to have for our weekly family dinner with my brother and his girlfriend and her brother (visiting from DC), tamales seemed like just the thing. And then while flipping through recipes on the web, I found out they are traditional Christmas fare! So I think we might have to make it our new Jewish Christmas tradition.
This is only my second time making them, and I stuck with Rockin Robin's excellent pictorial directions that I used last year. Of course I made my own vegetarian fillings, but she shows you just how to mix the masa, make the tamales, roll them, and steam them. The only thing I would add is that you should aim to spread the masa fairly thin on the corn husk so it doesn't overwhelm the fillings and the filling itself should be slightly saucy, not too dry. The MaSeCa brand of masa harina she recommends definitely has a better corn flavor than the health food brand I tried this time, I'm switching back next year.
I made two fillings this time. I can't really give you recipes for them since I didn't write anything down, but the first was roasted portabella mushrooms in a red mole sauce, and the second was roasted and peeled poblano peppers with corn (frozen), onions and cheddar cheese. We had them with refried beans, guacamole, and a delicious salad that girlfriend's brother made with honeycrisp apples and a stellar blue cheese.
If you go to make them, figure about 3-4 tamales per person, but you may as well make extra. They reheat easily in the microwave and freeze well. In fact I think I need a leftover poblano one right about now.