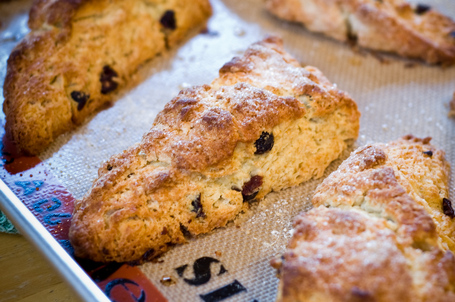 Baking books are kind of a dime a dozen, right? And certainly recipes for brioche or banana cream pie are nothing extraordinary. If you want a basic recipe for pie crust or pastry cream, you don't need to look any further than Joy of Cooking, or recipezaar.com.
What sets a book like Tartine apart from the pack is the confident hand that you feel guiding you, whether through these fundamentals or more dramatic desserts like a Chocolate Souffle Cake or Panforte with Candied Quince. When I made the scones (pictured above) and the pumpkin tea bread (below), I just knew they were going to be first rate, not merely good.
In each recipe here, you aren't simply getting something that Joe from Poughkeepsie has made once or twice and is reasonably happy with. These are tried-and-true items that have been made hundreds or thousands of times at the bakery and carefully refined.
Most pages include a Kitchen Notes section to pass on tips for perfecting the technique or varying the ingredients. For example, one useful note tells you how to avoid lumps in your cake batter: don't scrape the flour off the sides of the bowl. Instead, lift batter up onto the sticking flour so it mixes in, and whatever is still sticking – leave it behind, and definitely don't scrape it into the cake pan.
The book has the thoughtful details that make using it much easier. Every recipe provides measurements both by volume (for convenience) and by weight (for accuracy), in both English and metric. The ingredients are separated out by component (i.e. one section for the custard, another for the crust), and set off visually from the instructions. A ribbon page marker is built in, and the cover is printed directly, without the usual paper dustjacket to be soiled and ripped.
As Alice Waters explains in her foreword, Elisabeth Prueitt and Chad Robertson first opened a bakery of their own at Point Reyes Station in Marin county. They later moved to San Francisco and opened Tartine in the Mission District, and folks have been lining up out the door ever since. I can see why, because the choice of recipes in the book really shows off the authors' point of view. The desserts are light on frills and big on seasonality and flavor. They have a rustic sensibility which appeals to most everyone.
Although I've only had time to bake the simple items pictured here, I'm very much looking forward to a chance to dive in deeper. Brioche Bread Pudding, Shaker Lemon Pie, Pastel De Tres Leches, Clafoutis, Lemon Bars on Brown Butter Shortbread… not to mention a few savory items like Gougeres, Pissaladiere…. time to preheat the oven!
Here's an a link to my Amazon store if you want to pick up a copy. I use the (minimal) profits from sales to pay for the blog hosting expenses.