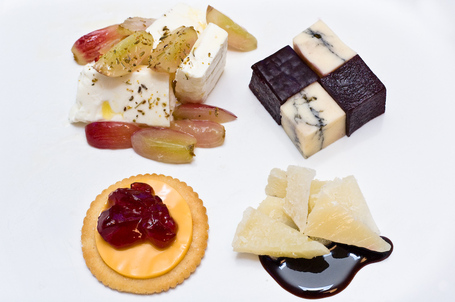 Cheese and Grapes Four Ways
I'm not really sure what got me on this track. Probably reading the completely insane El Bulli book that Sarina got me for Hannukah, although I certainly don't mean to invite any comparisons! Anyhow I was thinking about how many different forms grapes can take, and that made me want to pair several of them with cheese on the same plate. And then I've also been germinating ideas of dishes that combine or contrast industrially processed and "normal" foods. Not necessarily in an ideological way, not to make fun of the processed food, but just to let it speak for itself.
Anyhow, here is what I came up with for a first try:
Feta with quickly sauteed grapes, olive oil, and fennel pollen
Morbier with cubes of wine gelee (made with agar agar so as to be vegetarian)
Shards of pecorino romano with 15 year aged balsamic vinegar
Kraft singles with Welch's grape jelly on a Ritz cracker
By the way, if you like this post, please give it a Thumbs Up on StumbleUpon… thanks!