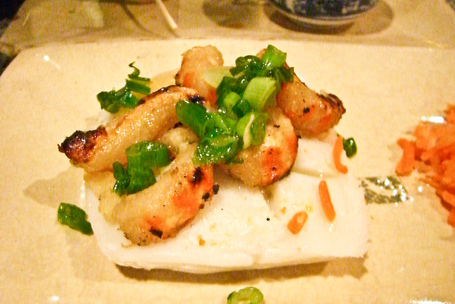 Vegetarian Coconut Rice Cake at Tamarind Tree
Hidden in the back of a business complex in the Little Saigon neighborhood, tucked into an impossibly overstuffed parking lot, Tamarind Tree serves up the most sophisticated and tasty Vietnamese food in Seattle, and is very vegetarian friendly.
From the moment you walk in the door, you know you've stepped up a level from most of the (often wonderful) neighborhood restaurants. The decor is sleek and modern down to the slick cast concrete bathroom sinks. The outdoor patio features a waterfall, and indoors there is a fire pit surrounded by three tables.
The menu offers many dishes you won't find at any other restaurant I'm aware of, and makes an effort to preserve regional flavors instead of turning everything into either a rice plate, a vermicelli bowl (bun), hot pot, or soup (usually pho).
The steamed coconut rice cake (banh man cu cai chay) you see above is a perfect example. The rice cake itself is soothingly warm and tender, delicately scented with coconut and topped with faux shrimp. Ignore that they are supposed to be shrimp, the resemblance ends at the visual. But they are wonderfully tasty little charcoal grilled morsels, with a pleasant chewy bite. The dish is served with vegetarian dipping sauce (like nuoc mam, but without the fish sauce), and a little shredded carrot salad. At most restaurants the salad would be an afterthought, but here is has been doused with coconut water or vinegar, providing an exciting, different coconut taste paired with the rice cake.
Vegetarians are well treated at Tamarind Tree. There are probably a dozen dishes clearly marked as vegetarian, and they are conscientious about making sure there really is no little bit of meat or fish in them. And many of the staff speak excellent English, so you can clarify any questions you might have. One small nitpick: several of the vegetarian dishes include a grilled lemongrass tofu. It is good, but it is the same in all of the dishes so if you pick more than one of them, it can feel redundant.
Today I also had the excellent Tamarind Tree Rolls, pictured below, which are the soft rice paper rolls wrapped around green leaf lettuce, mint, fried tofu, peanuts, and little crispy packets of fried wonton skin for a crunch factor, served with the same vegetarian dipping sauce.
The total for a very satisfying lunch was only $9.25. Generally speaking, dinners will run maybe 20% more than at competing Vietnamese eateries, but that is easily justifiable for the more sophisticated cuisine. At dinnertime and especially on weekends, Tamarind Tree does a roaring business, so arrive early, make a reservation, or be prepared to hang out for awhile!