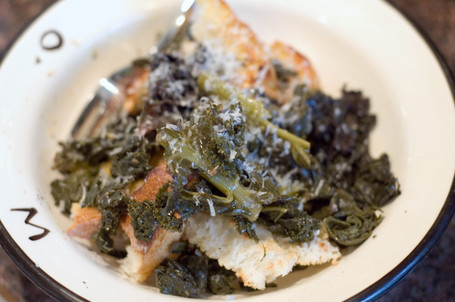 Warm Winter Greens and Bread Salad
This morning I had leftover braised greens in the fridge, from a dish I tested last week at Cafe Flora. They became one of those delicious breakfasts that kind of get composed while the frying pan is already heating, and you don't really know what you are going to eat until you stick a fork in it.
Although I had it for breakfast, in retrospect I think it would be really nice served as a warm salad for a wintry meal. A winter panzanella if you will. Add a soup and you would really be in business.
You can put this salad together in just a few minutes of active time, and of course it is amenable to any number of flavor variations – different greens, different bread, lemon zest, caraway seeds, whatever suits your mood and pantry. Here's today's version:
Warm Winter Greens and Bread Salad
Serves 1 as a main course or 2-3 as a side salad
Vegetarian, vegan if you omit the parmesan

2 big handfuls of winter braising green mix (or a single green of your choice)
2 slices rustic white bread
2 T. olive oil
1 T. lemon juice (or 1 T. olive oil and 1 T. any good vinaigrette)
2 cloves garlic, minced or pressed
1/2 t. chili flakes
parmesan for grating
Remove coarsest stems from the greens, rinse, and put in a large covered pot with 1/4 c. of water and a pinch of salt. Cook over high heat for a few minutes and then reduce to a simmer. Check occasionally to make sure there is still a bit of water, you don't want them to scorch. Cook until they are thoroughly tender.
Carefully (don't burn yourself) squeeze most of the water out of the greens and chop them to bite-size.
Put the bread on to toast, rather darkly for maximum flavor.
In a skillet, heat 1 T. of the olive oil over a high flame. Add the garlic and chili flakes and sizzle for a few seconds. Add the greens and toss to coat with the oil. Season lightly with salt.
To serve, tear the bread into bite size chunks and put in a bowl. Drizzle with the remaining olive oil and lemon juice (or vinaigrette). Top with the greens and toss lightly. Garnish with grated parmesan, a grind of black pepper, and a nice finishing salt (such as Maldon (aka the world's greatest salt)).
Eat right away, before the bread gets soggy.